A bunch of us here at RPGFan are big fans of Spike Chunsoft's 2019 graphic adventure AI: The Somnium Files, and more than a few times we've chatted amongst ourselves imagining what a sequel might look like. Just yesterday, a big hint emerged that a sequel would soon be announced, with our wonderful Alana Hagues promising not to start singing "Invincible Rainbow Arrow" until things are confirmed.
Alana, ready your vocal cords.
The trailer starts with a returning character Mizuki wishing she had omelet rice whilst playing Zero Escape: The Nonary Games on her Nintendo Switch. Because of course she is. It's soon revealed that she's working with a partner, Aiba, and then off she goes, carefree as can be, ready to solve a mission.
It's not much to go on, but Spike Chunsoft's thankfully offered us this blurb to flesh things out a tad.
Six years ago, the right half of a corpse was discovered under mysterious circumstances. The left half was never found…until six years later, when it was discovered completely fresh with no signs of decay, as though the victim was alive until just recently. Now, newly-appointed Special Agent Mizuki and her AI partner Aiba are tasked to solve the bizarre Half Body serial killings…
AI: The Somnium Files – nirvanA Initiative is currently on track for a Spring 2022 release. Get hype, right? And since special editions are all the rage these days, depriving so many of us of our hard-earned cash because we can't seem to say no, there is of course a Collector's Edition with shiny trinkets attached for good measure. You'll want to get your pre-order in soon (once they're open), because it's only available while supplies last. That's pretty much a code phrase for "scalpers will eat you alive later if you don't act fast."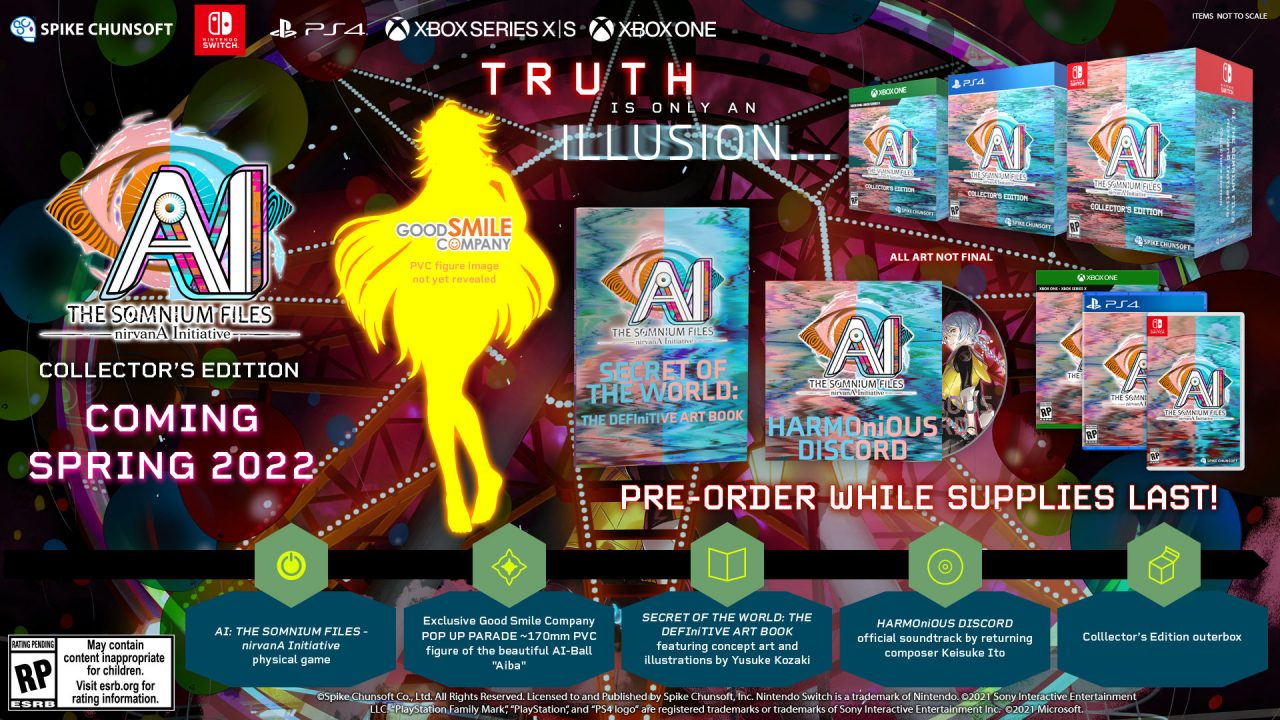 What's cooking with the Collector's Edition, you ask? Well, I suppose the above image answers your question, but I'll list it all here as well for good measure: a physical copy of the game, a 170mm PVC figure of Aiba, an art book featuring concept art and illustrations by Yusuke Kozaki, an official soundtrack from Keisuke Ito, and a big ol' box to store it all that says you mean business. (It doesn't actually say that.)
The Standard Edition of AI: The Somnium Files – nirvanA Initiative will retail for $59.99. The Collector's Edition will set you back a crisp $119.99. According to the game's press release, it will launch on PS4, Switch, Xbox One, and Steam. The photos all list Xbox Series X|S as well, while the official PlayStation Twitter account adds PS5. My guess is that it's primarily designed for last-gen hardware but will contain plenty of perks for the new video game consoles on the block.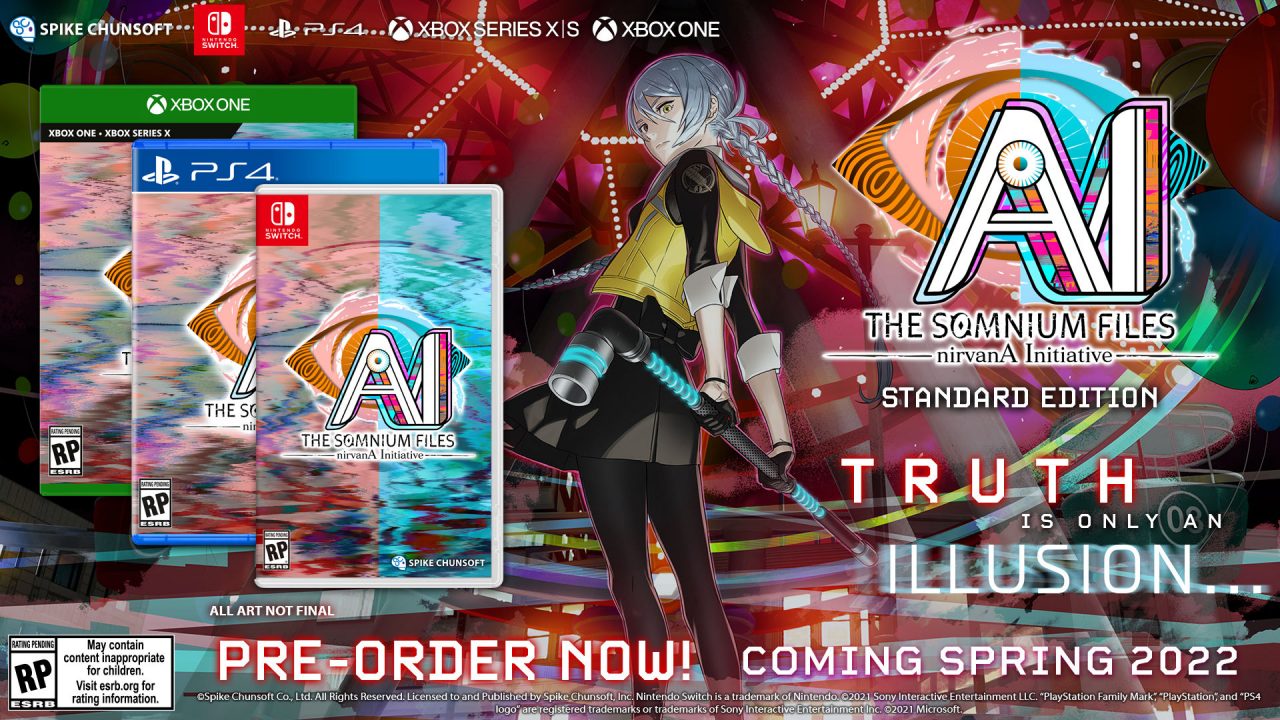 You'll need to keep checking back with RPGFan as we gather more exciting news about this most excellent announcement. Well, you don't need to. But we'd be really happy if you did.