It's finally here, Keyblade hopefuls: Nintendo revealed today in its Super Smash Bros. Ultimate presentation that Sora from Kingdom Hearts will be its final DLC character, rounding out the roster to 86 (!!).
He joins a plethora of guest characters from across numerous franchises, from Metal Gear Solid's Solid Snake to Final Fantasy VII's Cloud Strife. Sora comes equipped with Final Fantasy and Kingdom Hearts spell staples like Firaga, Blizzaga, and Thundaga, and has been built with a focus on aerial attacks and letting new players get an easy handle on his abilities. His costume selections also cover a gamut of Kingdom Hearts releases, with 1P being his original outfit, 2P being his Kingdom Hearts II incarnation, 3P from Dream Drop Distance, and 4P from Kingdom Hearts III.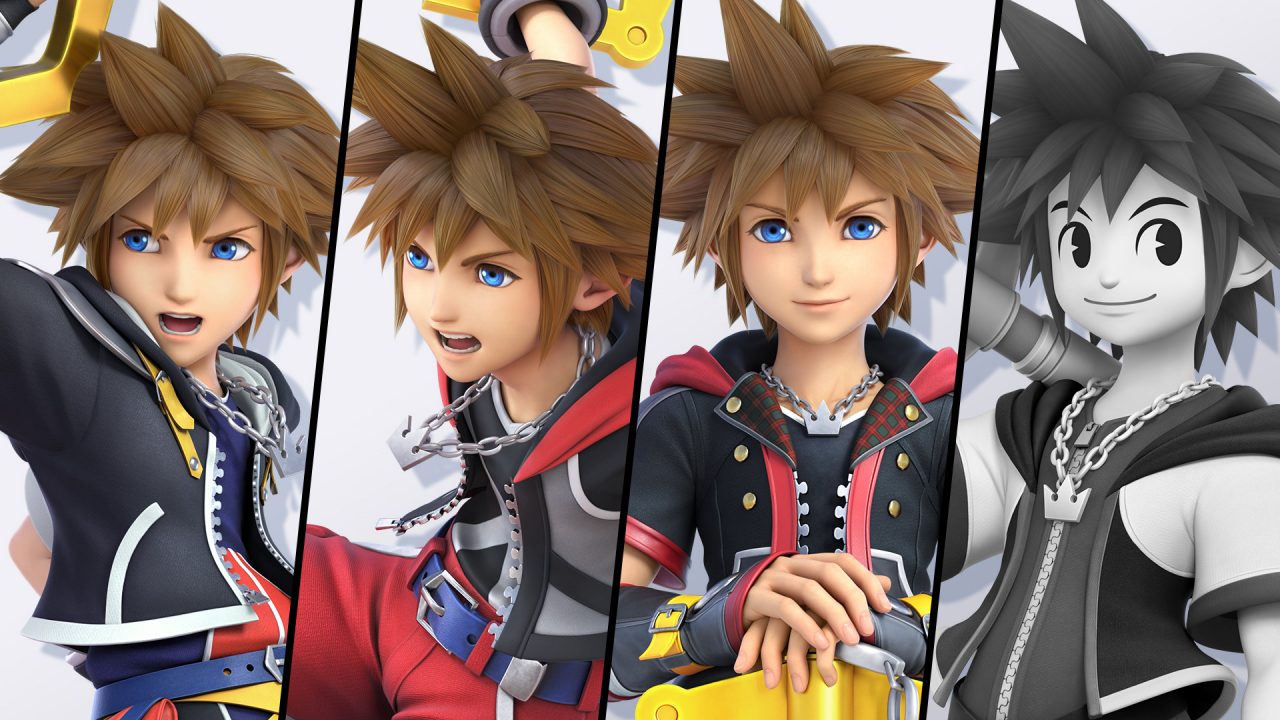 The variations don't stop there though! P6 is from KHII's Valor Form, P7 is the Wisdom Form, P8 is KHIII's Ultimate Form, and P5 — in a cheeky nod to classic animation — is his Timeless River version from KHII, complete with greyscale and rubbery facial expressions!
With Sora comes nine songs to use in Super Smash Bros. Ultimate:
Night of Fate
Destiny's Force
Shrouding Dark Cloud
Hand in Hand
Blast Away! -Gummi Ship II-
Hollow Bastion
Scherzo Di Notte
Fragments of Sorrow
Destati
These are all the original compositions, and players who have data from Melody of Memory can unlock a tenth song: "Dearly Beloved -Swing Version-," which is an arrangement specific to that game.
Lastly, a Kingdom Hearts-specific Spirit Board has been announced, with Kairi, Riku, Ventus, Xion, Aqua, Terra, Axel, and Roxas all making their due appearances at varying levels of advancement.
See several screenshots of Sora in action below, with even more available on our Super Smash Bros. Ultimate game hub.
Sora will be available on October 18th for $5.99 USD, and will also unlock on the same day for those who have purchased the Fighters Pass Vol. 2. This Fighter's Pass includes Min Min from ARMS, Steve & Alex from Minecraft, Sephiroth from Final Fantasy VII, Pyra and Mythra from Xenoblade Chronicles 2, and Kazuya Mishima from Tekken.
For even more details and the full presentation with Masahiro Sakurai, check out the video below!