After last week's surprise announcement of an HD-2D remake of LIVE A LIVE, a second trailer and details about a Japanese collector's edition were published online. Let's take a closer look at both!
The Character Trailer includes a lot of the same footage as the reveal trailer. However, it does not have a narrator, so the voice acting and the remastered version of Yoko Shimomura's legendary soundtrack are front and center. It also more clearly shares the eight different time periods and characters that make up the game.
Notably, Oersted from The Middle Ages scenario was not mentioned by the narrator in the reveal trailer even though his scenario was still shown. The new trailer displays everyone by name and time period.
Pogo from Prehistory
The Sundown Kid from The Wild West
The Heart of the Mountain Shifu from Imperial China
Oboromaru from Twilight of Edo Japan
Masaru Takahara from Present Day
Akira from The Near Future
Cube from The Distant Future
Oersted from The Middle Ages
The trailer ends with a glimpse of how their stories all come together.
In addition to the more extensive trailer, Square Enix is already accepting pre-orders for a Japanese collector's edition. We shared a glimpse of the impressive package before, but now we have more details about what it includes. Aside from what appears to be a physical copy of the game, the collector's edition includes a couple of unusual additions – most unusually, a complete board game.
The collector's edition includes:
A copy of LIVE A LIVE
A 2-disc soundtrack with a booklet featuring some artwork
An enamel bag
The Steel Titan plastic model kit
A LIVE A LIVE themed board game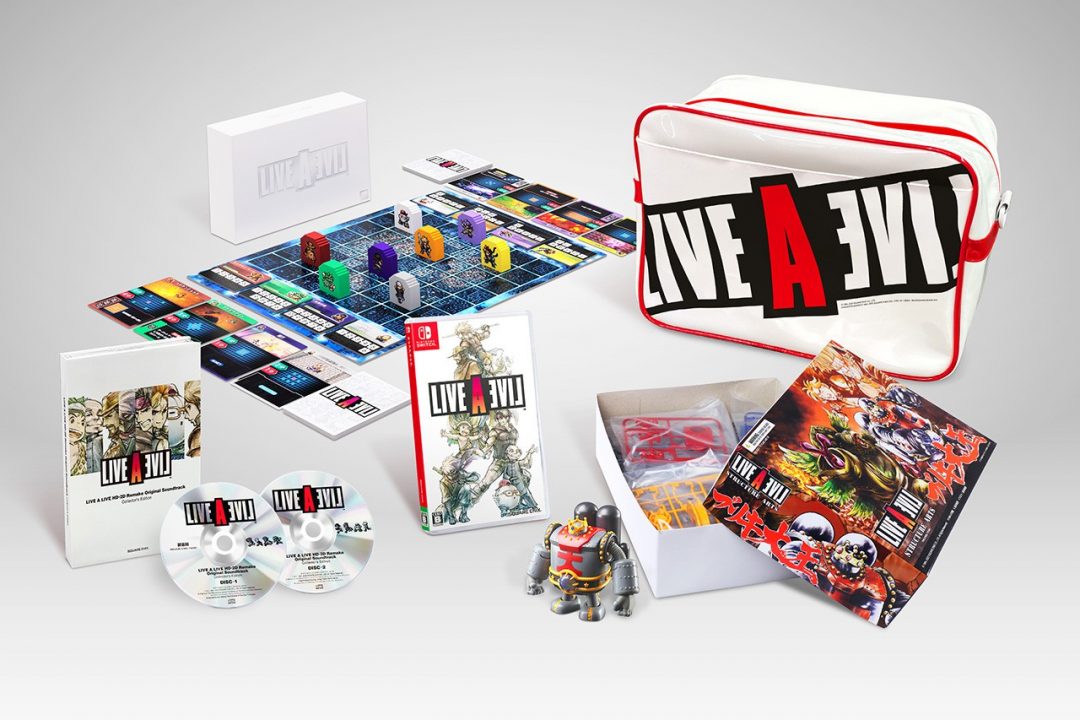 Aside from a single picture, there are no more details about the board game, which is the strangest inclusion. On the other hand, The Steel Titan plastic model kit has been confirmed for release outside Japan. The model kit is only available as part of the collector's edition in Japan, but US and EU players can already pre-order it individually from the US Square Enix store and EU Square Enix store for $45 and €46 respectively.
The complete Japanese collector's edition is also available to pre-order now on the Japanese Square Enix store for 22,000 Yen (which is around $190 USD).
LIVE A LIVE will release on Nintendo Switch on July 22nd, 2022.
Source: Siliconera