We're finally here, hunters. Monster Hunter Rise: Sunbreak is officially out today on both Nintendo Switch and Steam. (Well, it came out a day earlier on Switch.) Here's the latest batch of news from Capcom, featuring returning monsters, new armor sets, and a free update schedule that goes all the way to 2023. Watch the trailer below, which aired at the start of Tuesday's Nintendo Direct Mini.
You Can Wield New Weapons and Armor Against Three Powerful New Monster Variants
Gore Magala, Rajang, and Magnamalo are back to wreck you in Monster Hunter Rise: Sunbreak, as Shagaru Magala (an Elder Dragon, and the adult form of Gore Magala), Furious Rajang, and Scorned Magnamalo. These new variants are guaranteed to hit way harder, so best of luck to you. Thankfully, you may benefit from a new weapon tree and an armor set (both free) that you can learn about below.
Preparing for the Hunt

New to Monster Hunter Rise and want to get into the action of Sunbreak as soon as possible? You'll need to complete the Hub 7★ Quest: Serpent Goddess of Thunder to experience the new content in Sunbreak. To help you out, a free update will add both the sturdy Black Belt S armor set and a powerful new high rank defender weapon tree to help you fast track your way to Master Rank.  

[…]

Available via Senri the Mailman, the new Black Belt S armor set includes a high defense stat to get you through some of the tougher high rank monsters. Plus, all 14 Defender Weapons now have a high rank upgrade tree. These weapons were made available in a previous update, so all you need to do is head to Senri the Mailman to make sure you have the original Defender Weapons.

Keep upgrading your Defender Weapons as you progress through quests, and you'll be well equipped to tackle some of the base Monster Hunter Rise's late game challenges.

These new items are being added as part of Monster Hunter Rise Ver. 10.
Capcom Outlines Free Content Roadmap for Monster Hunter Rise: Sunbreak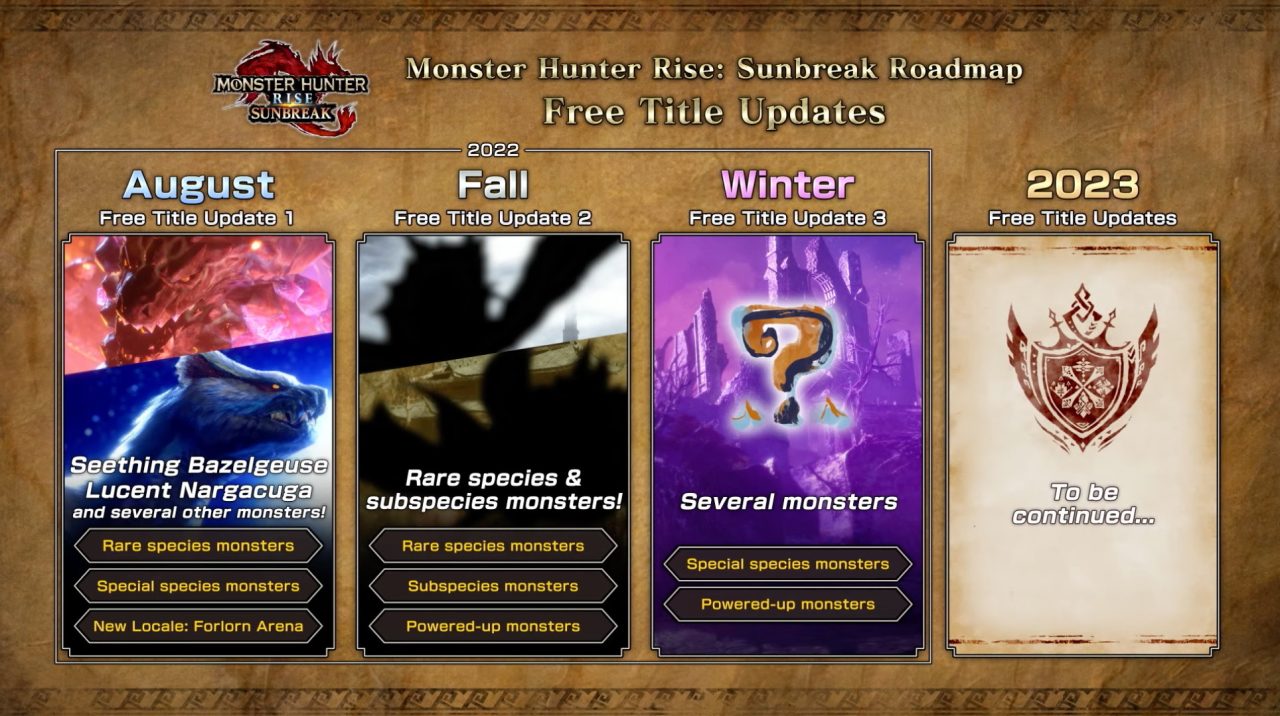 You'll be able to enjoy free seasonal updates to Monster Hunter Rise: Sunbreak throughout this and the coming year, bringing new monsters and locales. In August, the previously announced Lucent Nargacuga and Forlorn Arena locale, as well as Seething Bazelgeuse will be introduced into the game.
In case you missed it, there's a free Monster Hunter Rise: Sunbreak demo out. It's available now on the Switch eShop and Steam. There's always something going on with MonHun, and RPGFan's the best way to keep up to date!