Bloodborne: The Card Game – The Hunter's Nightmare is an essential expansion to this already engrossing game. I reviewed the base game last year and gave it high praise but noted some weaknesses in the lack of gameplay variety. After multiple playthroughs, the game felt repetitive, which is all right in that the group has more experience and can strategize more effectively.
In comes The Hunter's Nightmare, an expansion that not only adds the variety this game needs to stand tall above other interactive card games, but also inserts new elements that don't complicate the game while simultaneously adding meat somewhat lacking in the base game. In terms of variety, The Hunter's Nightmare adds several weapon and item upgrades, monsters, bosses, and final bosses. No game plays the same anymore since each final boss adds fascinating new rules to vary strategy, and revealed weapon upgrades dramatically change how players build their arsenals. Monsters and bosses add fun chaos, but not to the point of ruining anyone's game.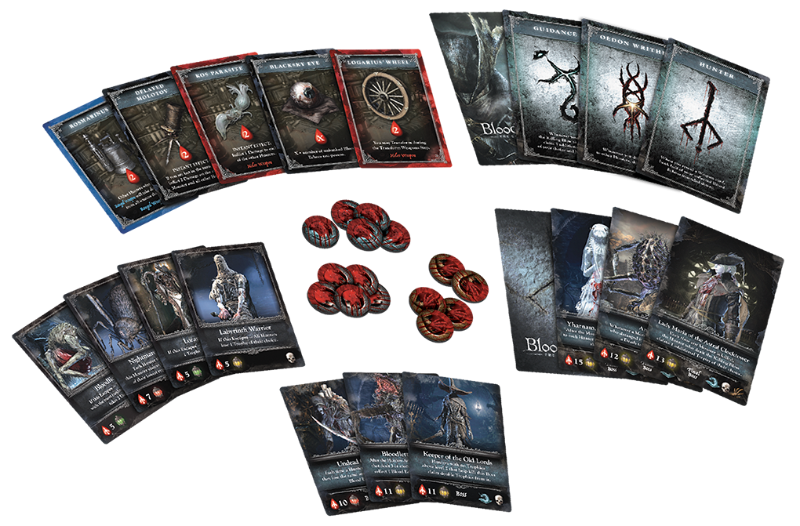 The featured new addition in the expansion is runes. Each player is dealt two runes at the start of the game and has to pick one. This is a perk that each player uses throughout the game to gain advantage over her opponents. The powers are pretty simple at first glance; for example, one allows the player to deal additional damage to anything they strike, while another heals the player if a ranged weapon is used. Some deal more damage to enemies under certain conditions or earn more blood echoes (points) if you defeat a monster in a particular way. While innocuous on the surface, runes completely change the way people value weapons. An initially undesirable weapon can all of a sudden become a staple. Players may want to pick their runes based on the final boss power, which influences everyone by virtue of existing.
My group and I had fun with Bloodborne: The Card Game before this expansion, but now I can't remember the last time we laughed, taunted, and carried on so much with a board game before. The expansion blows the game wide open. If this is any indication of what Eric Lang, the developer, can do with his games, I can't wait for what Cool Mini or Not has in store for us in the coming years.