Campaign Ends: December 10
Platforms: Windows, Switch, PS4/PS5, Xbox One, and Xbox One X/S. macOS may be possible, but still unconfirmed.
I'm sure at least three or four of you out there have played both Chrono Trigger and Dark Souls, perhaps even wondered what would happen if you were to mix the two. If so, Chrono Sword may be the answer to your question; a Souls-like action RPG with isometric pixel graphics and a strong narrative that blends time travel with a gothic fantasy world.
You are Aenor, a white-haired time traveling warrior. While on a mission, you inadvertently run into a younger version of your mentor; in that moment, the timeline is changed, and you return to a new version of the present where those dear to you are nowhere to be found. Travel back and forth through time and repair the world in a violent odyssey where your choices make a difference.
The game's combat system is intense and fast-paced; you'll need to utilize a variety of attack combos, in addition to dodging and using your shield effectively. Be careful of the enemy AI; your opponents will study your actions and adapt. Thankfully, you'll have plenty of opportunities to upgrade Aenor with a variety of weapons, runes, and collectibles, including Bloodstones to improve health, and relics which bestow new skills.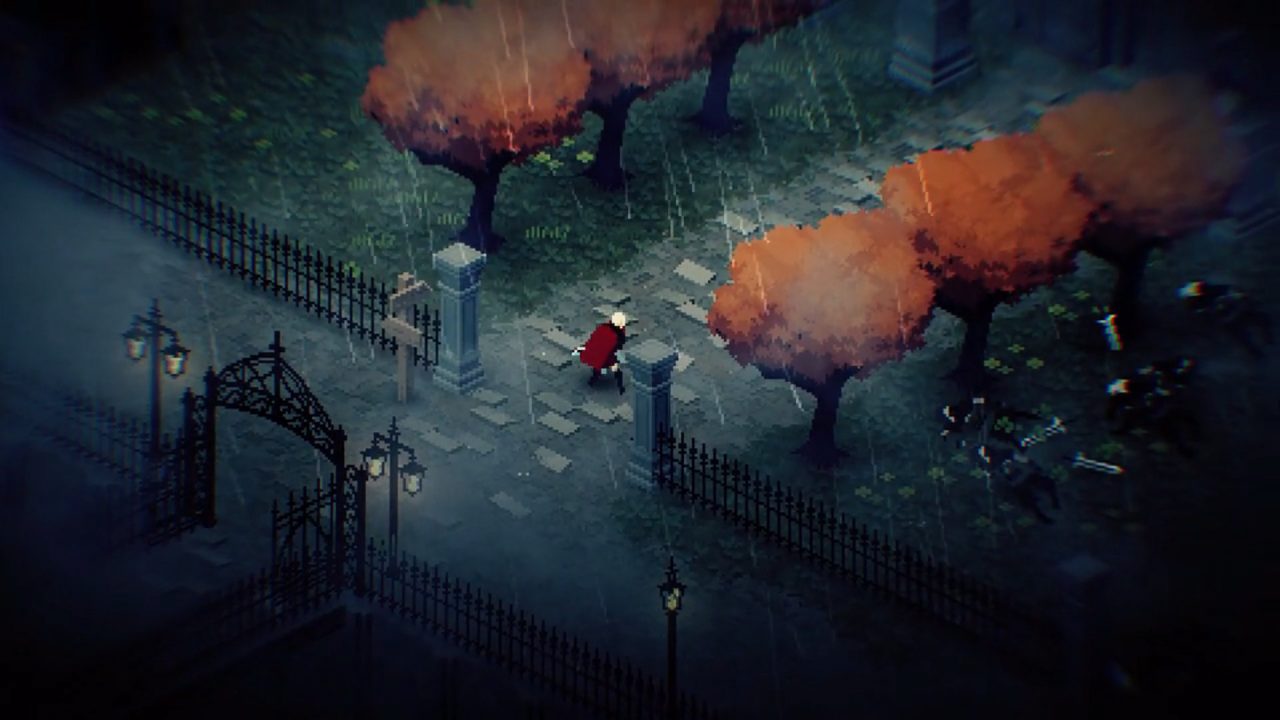 Explore past and present versions of Chrono Sword's gothic locales, all rendered with dynamic lighting and moody atmospheric effects. The screenshots released so far highlight a grim medieval city, though the game's concept art promises more beautiful environments full of intriguing allies and sinister enemies, including a young girl riding a giant tiger named the Forest Queen. I assume the official team cat Lollo approves of this. If you share my feelings about the game's art, you'll be happy to hear that an art book is included with several pledge levels, and can also be bought as an add-on.
While Chrono Sword is already funded, stretch goals will include voice overs, animated cut scenes, and more surprises. Additionally, a recent update has revealed that Emi Evans will be lending her voice to the game's opening theme; another delightful bonus for fans of Dark Souls! You can check out a demo on G.Round right now, with the full game expected late next year.
Disclaimer: While it's possible some of us at RPGFan may be backers of the games mentioned in these articles, this does not influence our coverage or our featured game choices. We make our selections simply based on the active campaigns we feel our readers might find interesting, and we are not given special access or perks by the developers.
tl;dr: We think these games show potential and want to share them with you.