Campaign Ends: October 23rd
Platform: Windows. Stretch goals add PS4, PS5, and Switch.
Music is fabulous, and I would say at least 98% of us would be incredibly unhappy if it were to be outlawed. This is the unfortunate reality we face in today's game of choice, Keylocker; the next pixelated quest from Moonana, creators of Virgo Versus the Zodiac (acclaimed by many, including us) and skeleton RPG Osteoblasts. A mix of RPG and rhythm game, Keylocker will take you to a colorful cyberpunk dystopia where playing music could land you right behind some thick iron bars.
Deep within the planet Saturn lies an extraordinary realm of sprawling cities, crumbling scrapyards, pastel-colored alpacas, and a noticeable lack of tunes. Due to its ability to produce valuable electricity, the planet's oppressive government banned music over 140 years ago; a deplorable move in my humble opinion. Enter BOBO, a magenta-skinned Singer fed up with the dismal state of society. As our heroine, you'll team up with a musical robot (among other lively individuals), form an unauthorized, under-the-radar band, and fight against the corrupt authorities to return music to your world!
Start the game as one of four character classes, including Hacker and Samurai, with more to choose from as you progress. Each class will offer different quests to complete, NPCs to meet, and choices to make. Meanwhile, how you interact with those NPCs will have an effect on the storyline, leading to one of several endings. Keylocker will even feature a bit of romance; two love interests will be available to start, with more added through stretch goals. Offer them gifts to access new dialogue and cutscenes, and help the romance (or friendship, if you prefer) progress!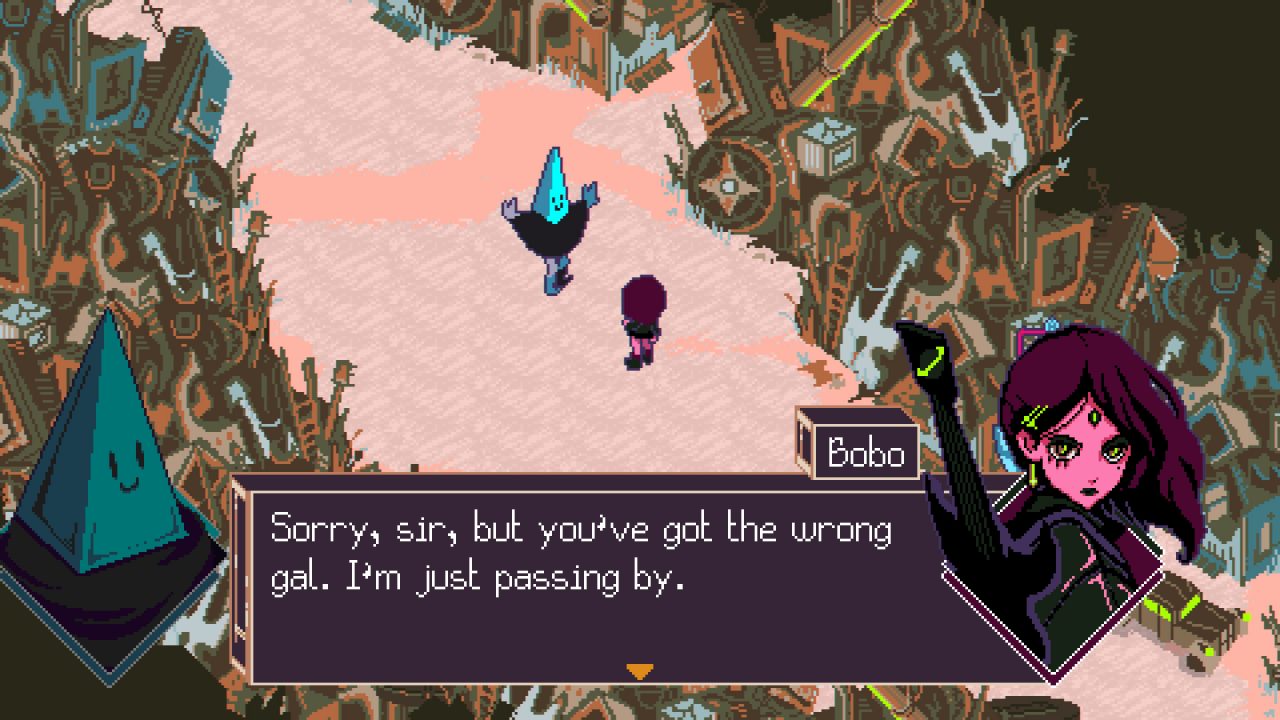 Keylocker's combat mixes turn-based tactics and rhythm elements; move around on a small hexagonal grid, time your attacks, and power up by hitting the right notes on a battle-appropriate musical staff! Thankfully, enemy encounters won't be random; you'll be able to see your opponents on-screen before combat starts, as in Chrono Trigger. Outside of combat, you can continue to rock out with your band in a more extensive rhythm game, but be sure to keep an eye on your Danger Meter; make too much noise and you might alert the authorities!
Keylocker recently hit its original funding target and is now looking to reach some stretch goals. These include the additional romance options mentioned above, Switch and PlayStation ports, and a New Game Plus mode, which will let you replay the game as BOBO's doppelgänger and reveal more story secrets along the way. Personally, I think the game looks fantastic; the vivid character portraits and pixelated environments add some vibrant EarthBound-esque energy to the cyberpunk genre. Audio-wise, if the trailer and campaign samples are anything to go by, the soundtrack will be fantastic. But please don't tell the police robots I said that. Silence is good and important. Heh.
Disclaimer: While it's possible some of us at RPGFan may be backers of the games mentioned in these articles, this does not influence our coverage or our featured game choices. We make our selections simply based on the active campaigns we feel our readers might find interesting, and we are not given special access or perks by the developers.
tl;dr: We think these games show potential and want to share them with you.