Whether it's crocheting, the ancient art of ukiyo-e, or good ol' fashioned pen and paper, Origins 2023 brought a variety of exceptionally talented artists. Resisting the urge to turn my home into a museum of fan art was challenging this year, though I certainly purchased a few works. Contained here is just a brief sampling of some of the talented, eccentric, and kind people I had the great pleasure of speaking with.
Nate Lovett
Anyone else remember the old Dungeons & Dragons cartoon with Venger, Tiamat, and the riddle-spewing Dungeon Master? Nate Lovett sure does. In fact, he illustrated the first episode into a Little Golden Book. Nate's passion for the cartoon was evident, and he'd love to draw more, but as fate tends to have it, the decision is out of his hands. We chatted about the show and he shared the wide range of his work with me, which can be viewed on his website if you are inclined to check it out.
---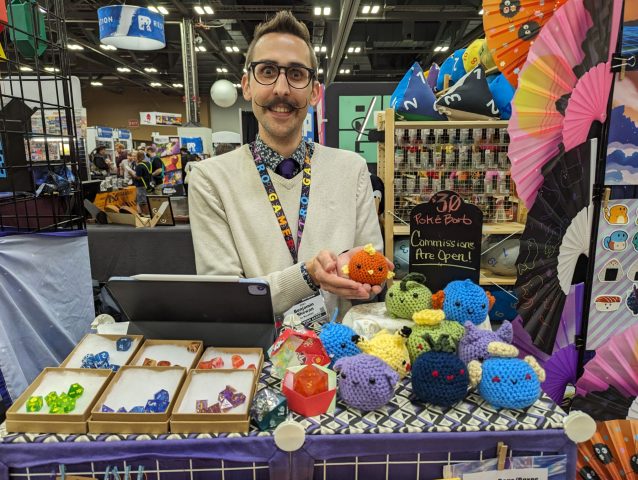 Kelsey Shewan
I'll admit it: I don't know the difference between crocheting and knitting. If I looked it up, I'd almost immediately forget what I just read; my mind just doesn't work this way. That doesn't mean I don't appreciate talent, though, and Kelsey Shewan clearly has plenty of it. I had the good fortune of meeting her partner, Benjamin Shewan, and we got down to discussing her love of Pokémon and open commissions. Titled Studio Kurahon, you can find examples of her work on her Instagram page and her website, Studio Kurahon.
---
Kellianne Stakenas
One of my favorite conversations at the entire convention, Kellianne Stakenas shared her lack of filter with me as we discussed commissions and her involved art style. Sketches or full-color images, few artists at the convention told a story as well as she did with her drawings of bustling inns and anthropomorphic dragons armed to the teeth. This particular visit reminded me of what makes Origins such a wonderful experience: talented people don't just have their work on display, you can banter and enjoy a laugh or two with them while you visit.
Browse Origins Game Fair 2023 Coverage