For a while in the mid-2000s, when the first-person shooter genre began to take off with titles like Call of Duty and Battlefield, one of the biggest points of contention was that of originality. Questions about how far games have to iterate on already successful formulas and developers' obligation to deliver new experiences for players were on every message board and forum. As a hot-headed teenager who was all too keen to jump on bandwagons, I was (of course) a part of these discussions, as foolish and pointless as they were in hindsight. And while my days of typing out lengthy arguments online are mostly behind me, the fundamental question still remains with me to this day: how vital is originality, really?
In this regard, We Are The Caretakers certainly deserves all the credit it receives for its setting. Afrofuturism is indeed a rare sight within an industry that loves to indulge in European and Japanese aesthetics, and games with poaching and conservation as their main theme are probably even rarer. But to say this was a breath of fresh air would be misleading.
This is because We Are The Caretakers is unfortunately mired in subpar execution.
The story begins with you as the new Conductor, tasked with protecting the Raun (the local wildlife of the area) from poachers and other threats. Amid your travels, your disgruntled predecessor ominously disappears, and the stakes and scope of the story keep rising as you encounter bigger and badder organizations throughout the campaign. The twists and turns that the story takes, while at times intriguing, don't leave a strong impression and are only further dragged down by the cliché dialogue and complete lack of interesting characters. Moral ambiguity or anything that might hint at interesting character arcs is nowhere to be found in We Are the Caretakers, while the good/bad choices presented throughout the game make the Mass Effect paragon/renegade dialogue wheel appear subtle and nuanced in comparison. And while this message of conservationism is undoubtedly admirable, the complete lack of depth means it gets lost in the void as you grind through the campaign.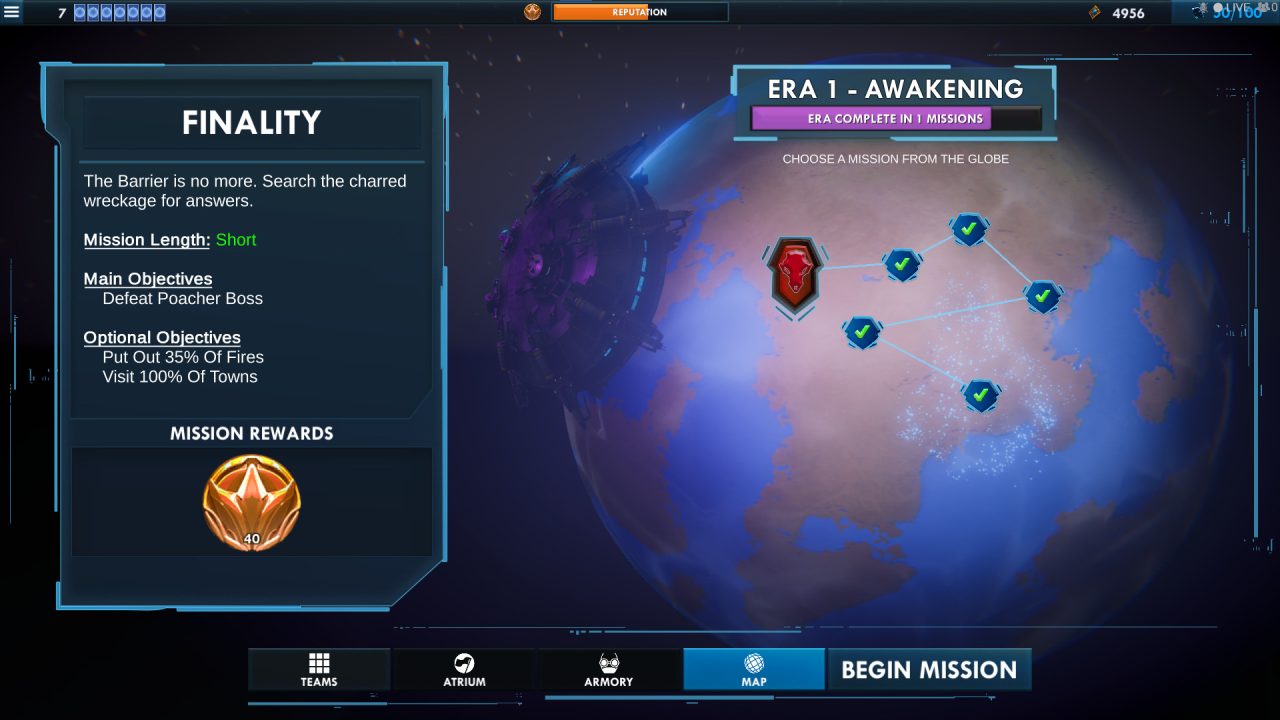 Some questionably implemented mechanics in the gameplay itself further exacerbate this feeling of incompleteness. While I'll elaborate on the combat later, just know you can perform "finisher" moves on enemies when either their stamina or willpower gauges are depleted. These finishers can range from wounding and chasing enemies off the map to detaining them for further interaction once the mission is over. Apart from the fact that there are some dubious finishing options like shaking down the poachers for their loot, the detainment option is where the sloppy combination of gameplay and story is on full display.
Once detained, you can find poachers in your home base atrium waiting to be punished for their crimes. If you were expecting nuanced interrogation dialogue, some sort of trial minigame, or a morally righteous smackdown, prepare to be disappointed. The punishments you can mete out are simply random one-stop choices. Sometimes you will be able to hand the poachers over to the elders to face the music, and other times your only options are to release the poachers with an apology. Whatever choices you get, they are utterly unpredictable, if not completely nonsensical. For example, I had the choice of releasing a poacher or giving them my intel because there wasn't enough evidence of their crimes, despite my detaining them while intercepting their attempt at poaching an animal.
Speaking of the gameplay, the combat itself breaks no new ground at all. You deploy teams onto the field to scout around for poachers whilst completing various objectives like dismantling traps or visiting villages. Once you encounter a group of poachers, you enter a stock standard turn-based combat encounter. Fight against the enemy team and deplete either their stamina (this game's version of HP) or their willpower (a unique secondary HP bar) to finish them off with the aforementioned finisher moves.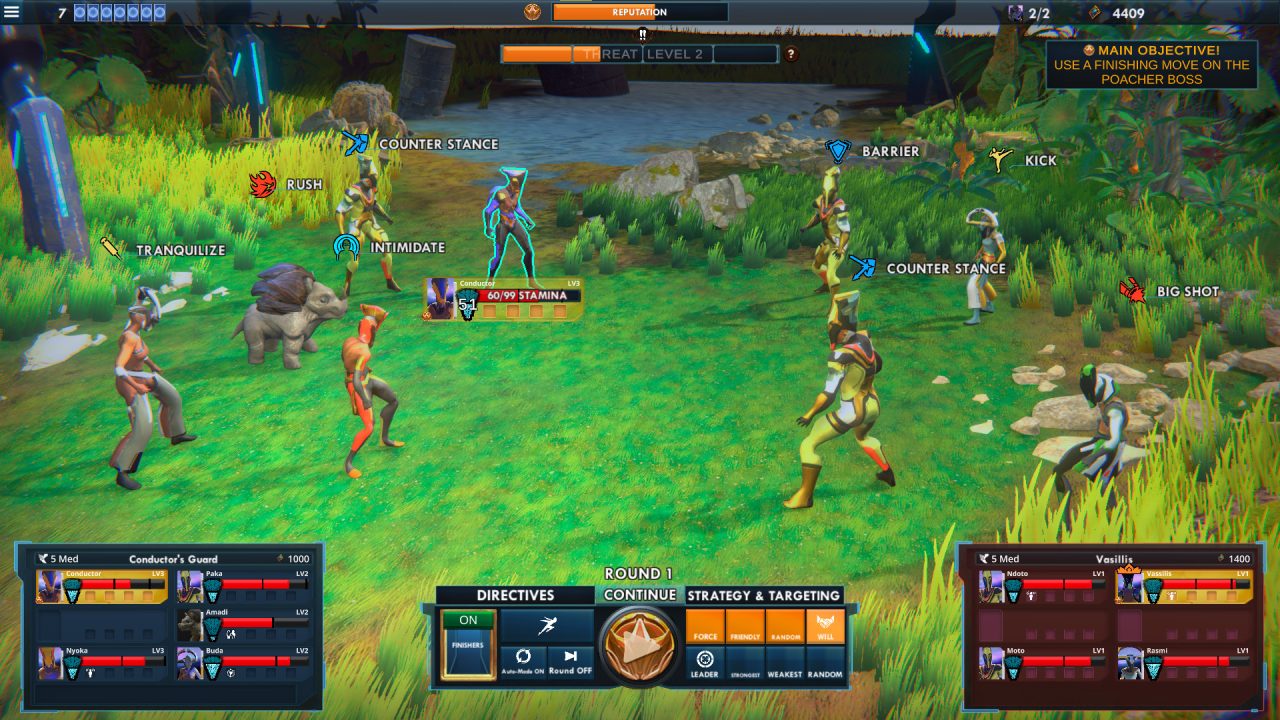 Despite the simplicity of the core game loop in We Are The Caretakers, trying to understand the information surrounding it is a complete slog. The tooltips in the character stat screen don't explain any stats beyond the HP and Will bar, leaving terms like charisma or mental defense up to you to figure out independently.
This obtuseness also extends into combat, with skills showing various multipliers but no actual explanation of what exactly is being modified by these numbers. But you soon find out that you don't need to worry about these numbers anyway because the gameplay balance itself is quite lacking. Area-of-effect abilities often deal the same amount of damage as single-target abilities with no discernible downside at all, and the complete lack of a cooldown or resource system to gate spell casts means you can spam your strongest ability on every character to your heart's content.
Unfortunately, this means that enemies can do the same to you. This is especially annoying in the last few stages of the game where enemy patrols begin to spam abilities that block your own. The halfhearted attempt to balance this by giving every character a chance to dodge attacks only backfires and makes some engagements absolutely infuriating. Games like Fire Emblem could get away with these hit-chance checks to some extent thanks to engagements being a one-versus-one battle, but with entire teams on the line, these kinds of swings just become exasperating to deal with.
Awkward animations do little to sell the gameplay either, with the constant back-and-forth camera swivel during battle bordering on nauseating. Characters insist on looking over their shoulder every two seconds despite an entire platoon of poachers standing right in front of them, and combat animations still look like rudimentary first drafts instead of a polished end product.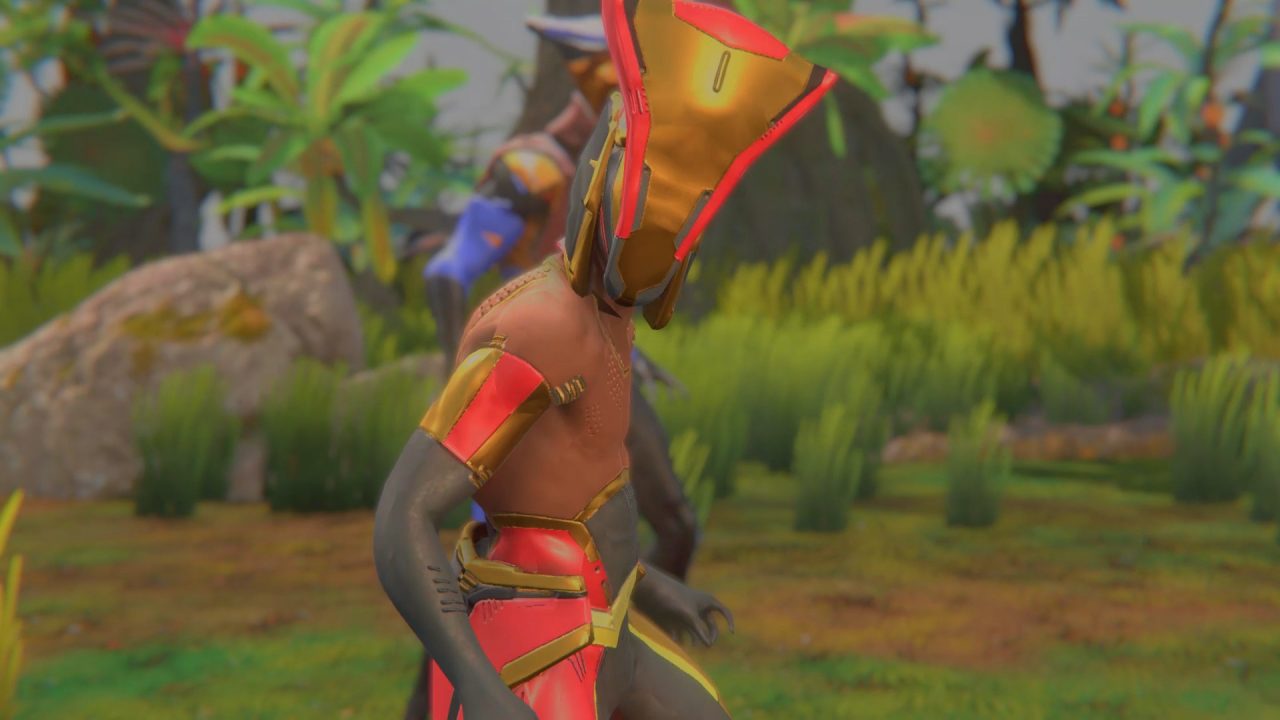 The afrofuturist style in We Are The Caretakers manages to salvage the game's aesthetics to some degree, but the rudimentary nature of the 3D models keeps it from being anything more than impressive concept art. Clothes will clip through body parts, and guns are glued onto hands such that characters flail them about like toys during victory screens after battles. Additionally, some characters in the late game have such large models that they block out entire rows of enemies at a time, making it impossible to do anything else until you take out said giant unit. Giant visors that block every character's face intensify these questionable decisions further, making all the characters look like funky astronauts rather than afrofuturist rangers.
Music is decidedly unimpressive as well. It doesn't mesh with the visuals in any way and doesn't inspire a particularly distinct style either. I feel like I've heard it in other generic indie ARPGs at some point or another, which isn't helped by the complete lack of voice acting. The extent of the voiceover you can expect to hear is some grunts when selecting your deployed teams.
We Are The Caretakers is a reminder of just how much work it takes to properly bring something from a cool concept to an actual functioning game. I have no doubt that Heart Shaped Game's intentions were noble, and their courage to venture into relatively unexplored territory in gaming deserves its due credit. But when looking at the bigger picture and judging the game for what it is, not what it is supposed to be, We Are The Caretakers is simply beyond the pale.