As January comes to a close, we're starting to see some big hitters rounding the corner in the wide and wonderful world of role-playing games. This week, the 22nd mainline entry in the 21-year-old Atelier franchise makes a splash on four kinds of hardware. So that's kind of a big deal. We've also got the Windows release of what is probably the best-selling Apple II game in 40 years, and yes, you read that correctly. All that and more on this exciting episode, so let's get started!
---
Atelier Ryza 2: Lost Legends & the Secret Fairy – January 26th (PS4, PS5, Switch, Windows)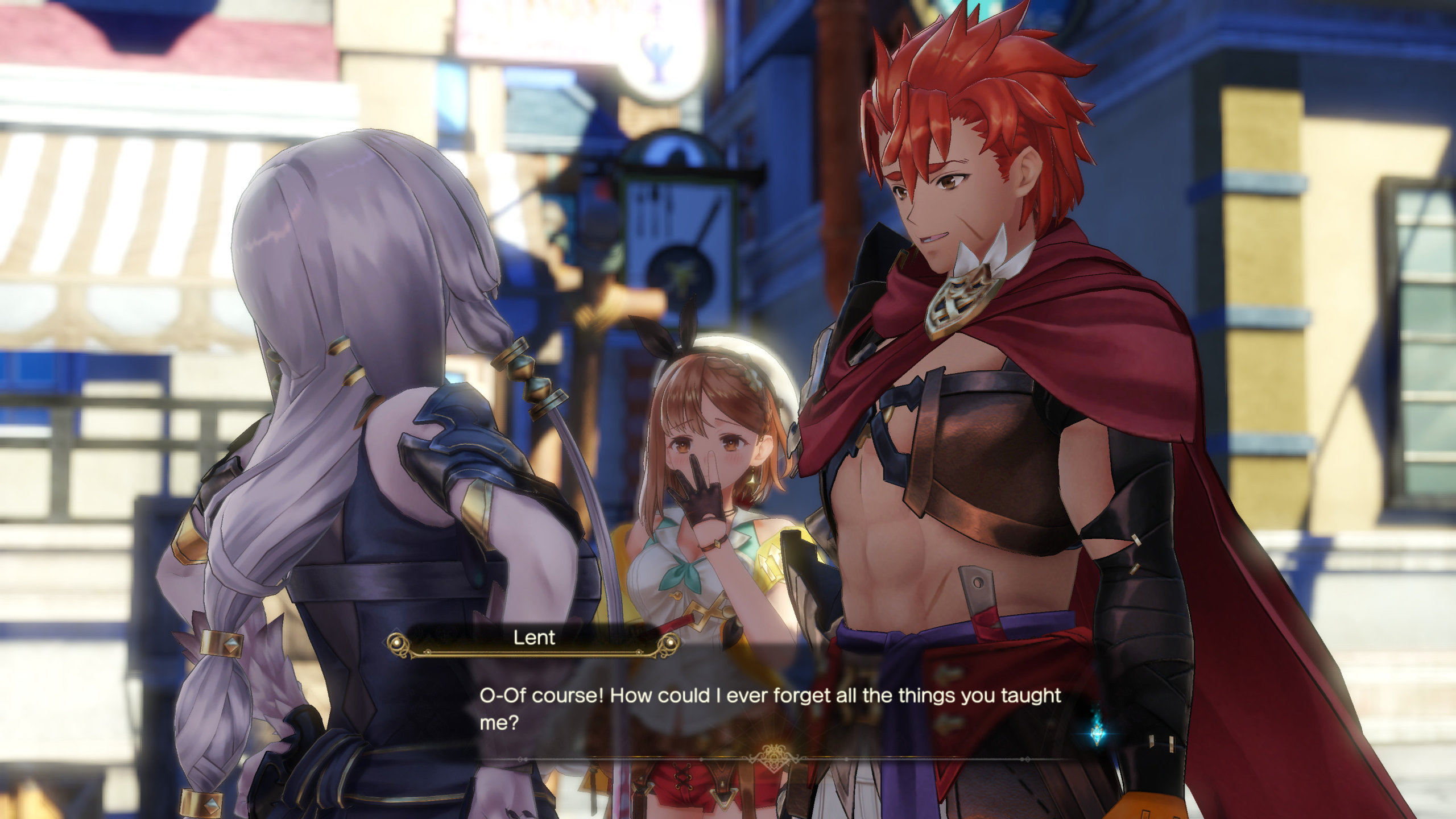 My jaw went slack when Koei Tecmo and Gust announced back in August that Atelier Ryza: Ever Darkness & The Secret Hideout had hit the 500k sales mark. The last few Atelier titles had sold poorly overseas, likely leading to the studio's decision to nix dubs as a cost-saving measure. Atelier Ryza, on the other hand, has reinvigorated the franchise. And it's no wonder, given how good the game is. A sequel was inevitable, and Atelier Ryza 2: Lost Legends & the Secret Fairy is now just a day away. Three years after protagonist Ryza's initial adventure, a close friend returns to her life with news of unexplored ruins with alchemical ties. It isn't long before she's reunited with several familiar faces from the first game. Ryza's armed with cool new abilities in Lost Legends & the Secret Fairy, including using plants to climb walls and magic ropes to travel between areas. She can even dive underwater for fun and profit. Numerous writers at RPGFan are stoked for this game, so you can bet it will be on our radar well after release!
---
The Dark Eye: Chains of Satinav and The Dark Eye: Memoria – January 27th (PS4, PS5, Switch, Xbox One, XSX)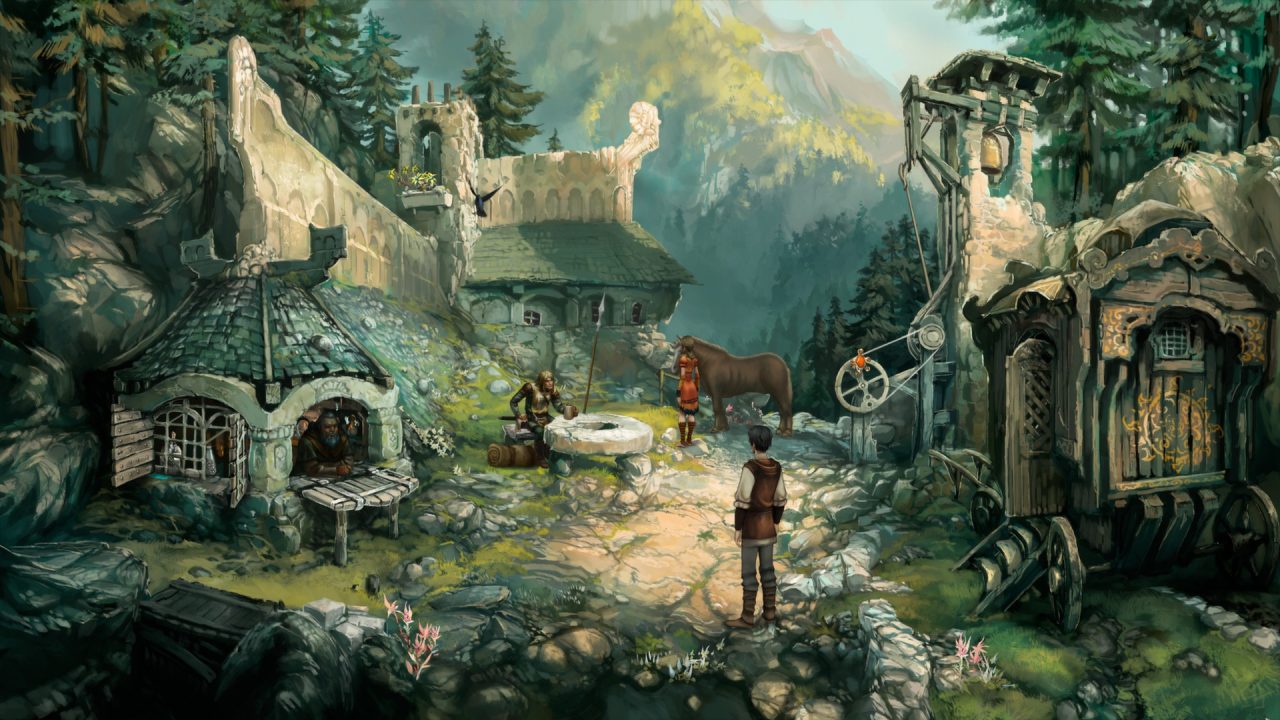 Well, it's about time! The Dark Eye: Chains of Satinav, a point-and-click adventure game from Daedalic Entertainment, graced the PC scene with its strong writing and vivid sense of atmosphere nearly a decade ago. Memoria, a direct sequel, soon followed. Both games were heavily praised for their fantastic storylines, dynamic puzzles, and handcrafted worlds. It's been a long time coming, but both entries are finally making the jump to consoles. Daedalic Entertainment has evidently sought to make it worth the wait, with a simultaneous launch on — deep breath — PlayStation 4, PlayStation 5, Nintendo Switch, Xbox One, Xbox Series X, and the Series X's more affordable sidekick, the Xbox Series S. There's no better year than 2021 to find out why so many computer-centric gamers ranted and raved back in the good old days when Breaking Bad wasn't over yet and fast food dollar menus hadn't blinked out of existence.
---
Heaven's Vault – January 28th (Switch)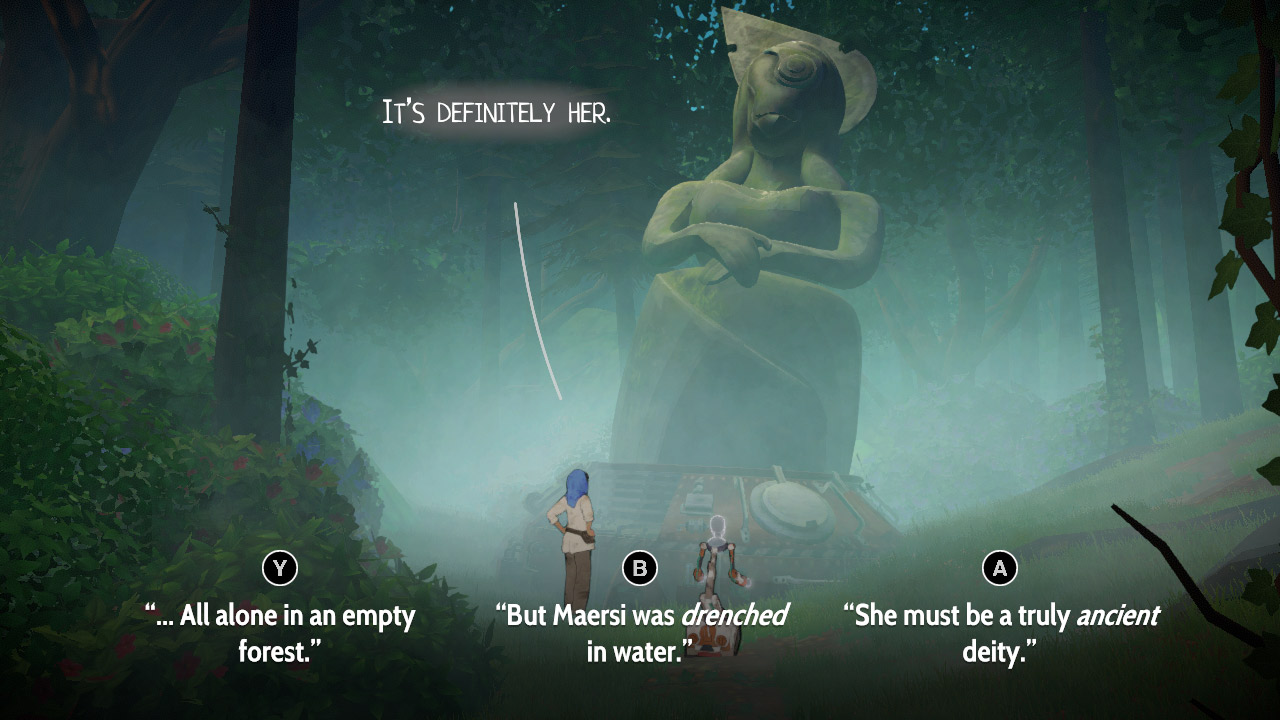 Speaking of console ports, it's Heaven's Vault! A little known fact about yours truly: I'm a huge archaeology nut. Really, every facet of anthropology thrills me to some degree or another. What better marriage, then, than an RPG starring an archaeologist who solves hieroglyphic puzzles with her robot sidekick whilst traveling from moon to moon in a strange expanse called Nebula? Good grief, y'all, somebody buy me an engagement ring. The game is a critical hit, too, beloved for its sense of wonder, scale, and respectably-executed real-world cultural echoes. This is the kind of game that I'd love to play in bed on a rainy Sunday morning, or after a long day of work in the evening. It seems equally capable of challenging one's brain and soothing me serenely. As is often the case with Switch RPG ports, Heaven's Vault is something I've waited to check out until that dream of mine can come true!
---
Nox Archaist – January 28th (Windows, macOS)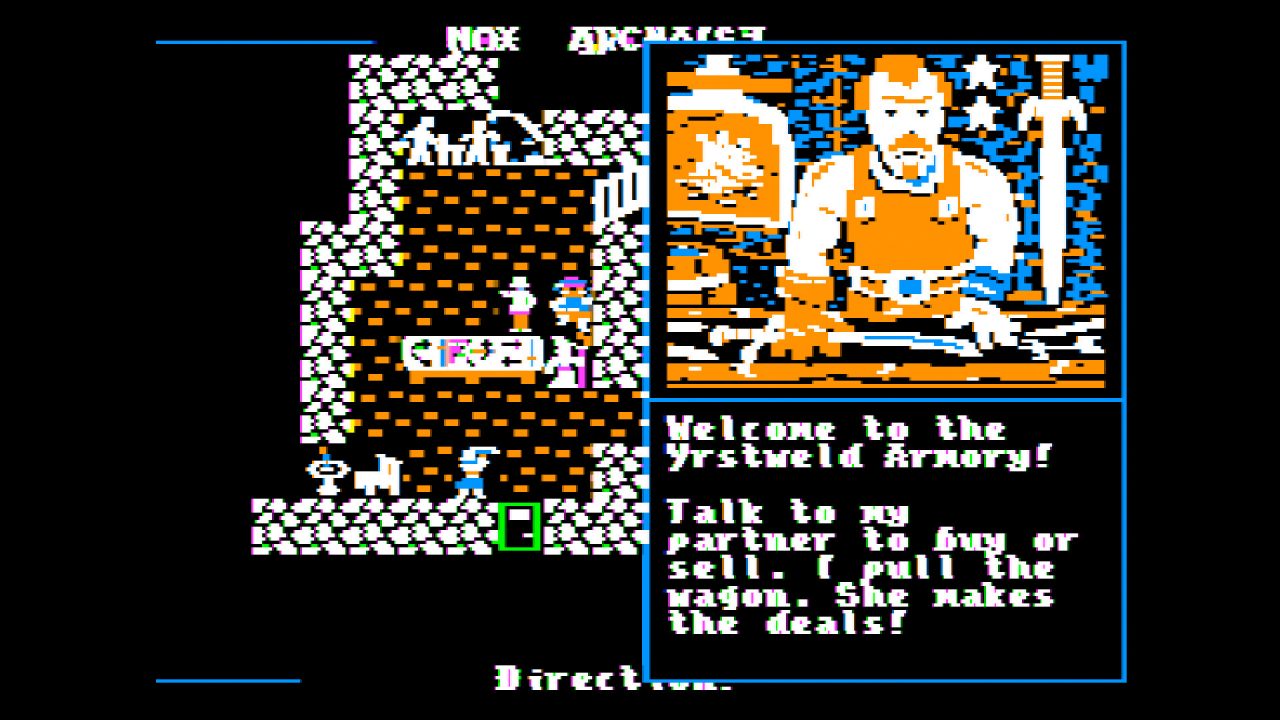 Do you see how blurry this image is? It is gloriously blurry. I cannot get over how delightfully blurry it is. If any other 2021 video game release was this blurry, I'd have questions. But this is Nox Archaist, an RPG that just came out for Apple II hardware last month. The Apple II, in case you're not hip to technology as old as the original Star Wars, was an 8-bit home computer that competed with the likes of the Commodore PET 2001 and TRS-80 for dominance. Its screen was capable of color graphics, which pretty much blew people's minds. And I reckon it needed to blow minds, considering its $1,300 price tag. (That's nearly $5,500 when adjusted for inflation.) There are so many video games these days with the primary purpose of recapturing the essence of classical hardware, but surely, nothing can compare to the commitment we're seeing in Nox Archaist. Steve Wozniak himself has even tweeted his enthusiasm for this one. Nox Archaist looks like an old Ultima game, plays like an old Ultima game, and by golly, I bet it even smells like an old Ultima game. I wasn't even alive for stuff this old-school and yet I'm tempted to pick this up anyway.
---
Re:ZERO – Starting Life in Another World: The Prophecy of the Throne – January 28th (PS4, Switch, Windows)
Say that name five times fast. Re:ZERO – Starting Life in Another World: The Prophecy of the Throne strives to be two things at once. Part visual novel, part strategy RPG, it serves as a full-fledged console tie-in to the perennially popular Re:ZERO franchise. As I mentioned in a recent article, there's quite the Wikipedia rabbit hole involved in this franchise. What started as a light novel series quickly branched out into the mediums of manga and anime. Given how successful every other aspect of Re:ZERO has been, it was only a matter of time before this Isekai breadwinner came to consoles. Humans and demi-humans alike are co-hosting an election to determine the future king of the nation of Lugunica. Subaru Natsuki, a young man from modern Japan who somehow winds up in this fantasy world because of course he does, soon falls in love with a half-elf woman named Emilia and discovers he has the ability to travel back in time whenever he dies, retaining all his memories leading up to those fatal moments. It's a setting that's ripe for branching visual novels, mirroring such cult hits as Virtue's Last Reward, and players will need to make the most of it as they navigate a string of events based upon one of the more pivotal arcs from the anime's first season.
---
Sword of the Necromancer – January 28th (PS4, Switch, Xbox One, Windows)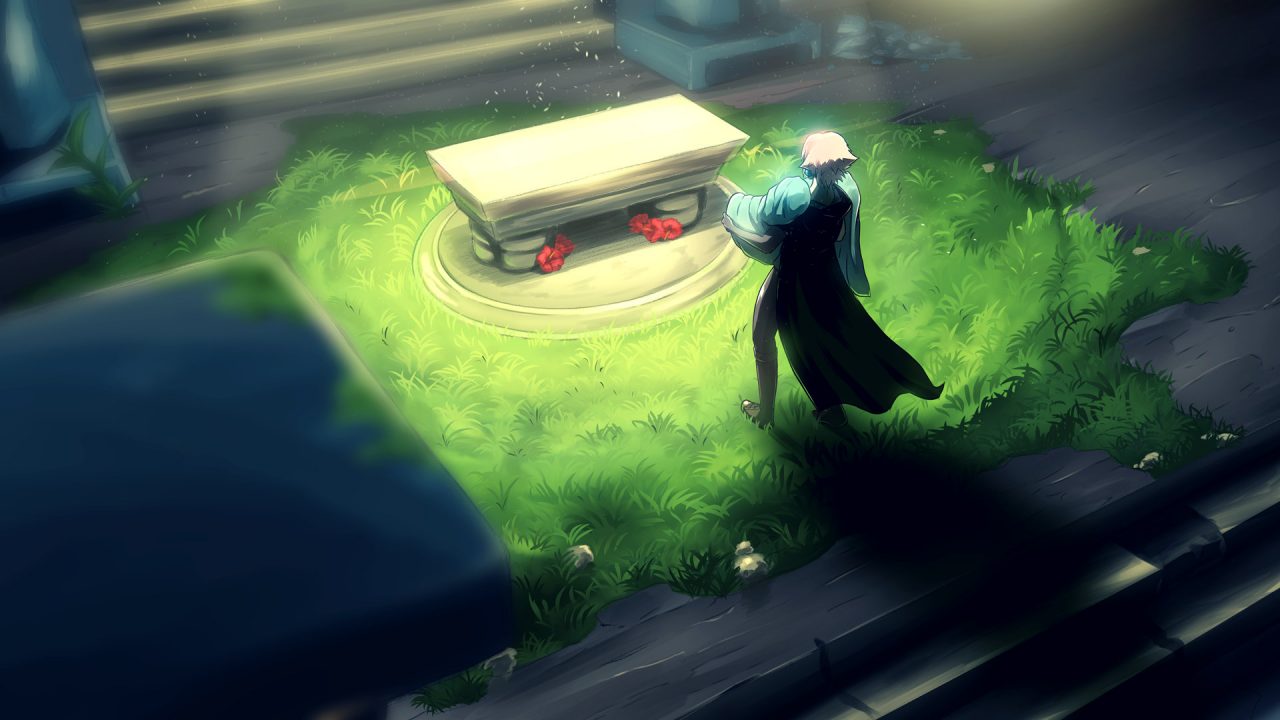 A Kickstarter success story, Sword of the Necromancer stars Tama, a rogue-turned-heroine whose quest is beautifully personal: to resurrect her priestess lover Koko whom she failed to protect during her pilgrimage. Tama's simple goal is quickly complicated by the acquisition of the titular Sword of the Necromancer. The weapon has the rad ability to revive monsters and compel them to act as allies to the wielder — truly, a necromancer's best friend. But Sword of the Necromancer is a harsh, punishing game; in line with its roguelike brethren, every time you get hit with a game over screen, all of Tama's gear as well as half her current level vanish into the void. Sword of the Necromancer was initially slated to launch in December, but a modest delay for fine-tuning such an eagerly-awaited passion project is a small price to pay for what's shaping up to be a good (if painful) time.
---
Sometimes I close these articles out by talking about the games I'm presently playing. Sometimes I relay a strange experience, or chat about the weather, or make Star Trek references just because I can. I'm feeling rather laid-back this week. An uncharacteristic calmness has washed over me. Have you ever had one of those mornings where you just wake up, eat your breakfast, and blissfully let the day pass you by?
Today, that's me. Except I'll be playing an RPG while the hours whittle past me, because it sure ain't Saturday without an RPG to light up the living room. I'll catch you next week, friends!
[Editor's Note: We will check in with Quinton to make sure this Monday morning was as relaxing as his Saturday when he wrote this article.]