A pair of new trailers have been released just ahead of Monster Hunter Stories 2: Wings of Ruin's upcoming release on July 9th. You can see the launch trailer below for a look at what to expect on launch day and beyond, and be sure to read on for all of the details on the game's post-launch roadmap!
Monster Hunter Stories 2: Wings of Ruin Roadmap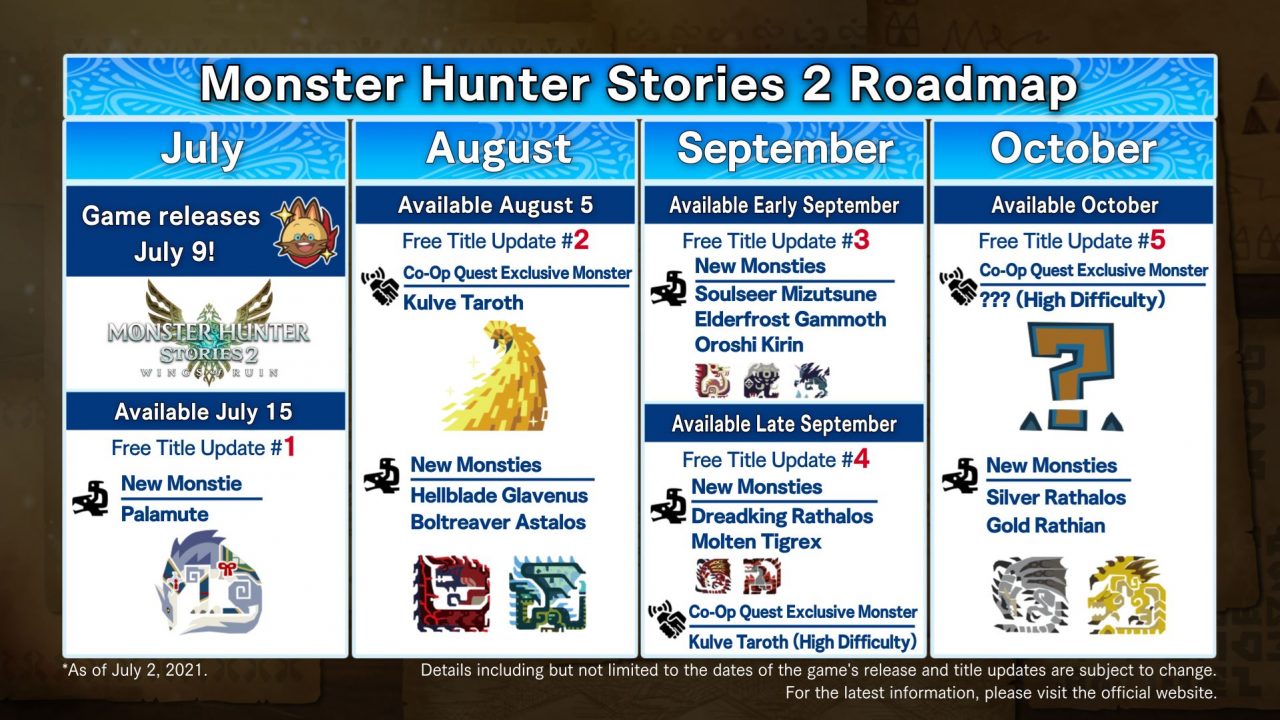 Shortly after the game's release, the first free content update will arrive on July 15th, adding the Palamute Monstie, which should be familiar to players who have enjoyed time in Monster Hunter Rise. Four additional free content updates will come to the game beginning on August 5th, when the Hellblade Glavenus and Boltreaver Astalos Monsties will join the in-game arsenal of rideable pals, along with the Kulve Taroth co-op quest.
In September, two additional updates will release, adding more free content to the game to keep Riders in tip-top shape. Early in the month, players can look forward to the addition of the Soulseer Mizutsune, Elderfrost Gammoth, and Oroshi Kirin Monsties. In late September, the Dreadking Rathalos and Molten Tigrex Monsties will join the fray, along with a high-difficulty co-op rematch with the dreaded Kulve Taroth. You can take a look at the game's exciting co-op gameplay for yourself in the trailer below.
Finally, in October, Title Update 5 will add a special mysterious monster that players will take on in yet another high-difficulty co-op battle, along with the addition of the Silver Rathalos and Gold Rathian Monsties!
New Media
You can see new images of some of these DLC Monsties and more here, with even more in our galleries on our Monster Hunter Stories 2: Wings of Ruin game hub.
Monster Hunter Stories 2: Wings of Ruin will release on Nintendo Switch and Windows PC via Steam on July 9th! Monster Rider hopefuls looking to try their hand at the game, or players hoping to get a head start on the action thanks to save data transfers, can try the free demo version, which is available now! For more on this exciting, turn-based spin-off title, be sure to stay tuned to RPGFan!