The SEGA Genesis Mini 2 is real, and it's coming October 27th to North America. SEGA announced the Mega Drive Mini 2 last month, but we didn't know if it would release outside of Japan until now. The trailer below showcases the Model 2 shell design, and, critically, promises to include SEGA CD titles. More on that below.
Note: That's definitely the six-button controller at 0:14, which could make the package already worth purchasing for those who weren't happy with the original Mini's set. The original controllers will be compatible with the Mini 2 though.
Replicating the design of the second model of the Genesis, the Genesis Mini 2 features hardware improvements over 2019's successful SEGA Genesis Mini. The SEGA Genesis Mini 2 boasts a brand-new line-up of more than 50 games, that's bigger and even more impressive than the original Genesis Mini release. For the first time, titles from the SEGA CD era will be playable, featuring full-motion video! Last but not least, a previously unreleased game has also been added as a bonus, adding even more fun to the package! Welcome To The Next Level.

[…]

Included items: 1 x Console
1 x Controller
1 x High-speed HDMI cable
1 x USB power cable
1 x AC Adapter

Console dimensions: 120.8mm (W) x 32.3mm (H) x 116.5mm (D)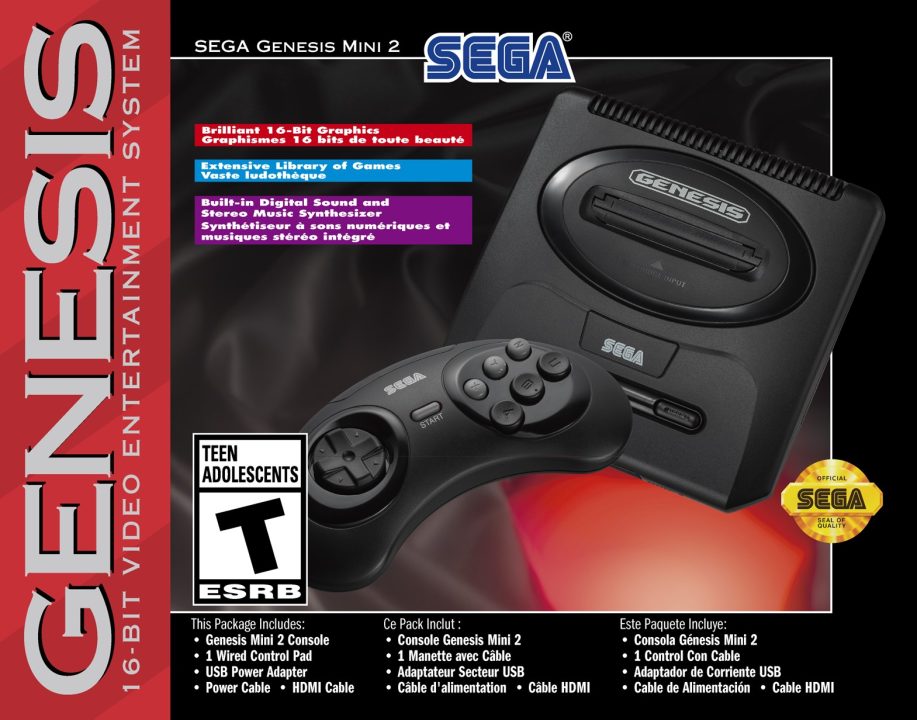 What Games Are on the SEGA Genesis Mini 2?
SEGA's bundling a whopping 50 games into the SEGA Genesis Mini 2, including one unreleased puzzle game called Star Mobile—a similar situation to the versions of Darius and Tetris on the original Mini. You can check out all the games announced so far on the official website.
As far as games relevant to RPGFan go, we're confirmed to be getting Shining Force CD and Shining in the Darkness. Japan, on the other hand, will enjoy Lunar: The Silver Star and Lunar: Eternal Blue in their original Sega CD forms. The relatively obscure adventure game Fushigi no Umi no Nadia (aka Nadia: The Secret of Blue Water) will be on Japan's Mega Drive Mini 2 as well, but that never got an (official) English translation. Here's hoping we at least get both Lunars.
You can preorder the SEGA Genesis Mini 2 on Amazon for $102.38 USD as of the time of writing, not factoring in shipping costs. Stay tuned to RPGFan for the latest on RPGs and adventure games coming to the mini console!
Partial Source: Gematsu