In a blog post, Square Enix has revealed a whole heap of information regarding Theatrhythm Final Bar Line, their upcoming rhythm game. The post outlines gameplay, difficulty levels, stages, game modes, and more.
Theatrhythm Final Bar Line – Announce Trailer
This new rhythm action game aims to revive your fondest memories of Final Fantasy through one of the series most powerful elements: the music.

It's packed with musical gems, carefully selected from across the entire Final Fantasy series, from mainline numbered titles and remakes to side-stories, spin-offs and even soundtrack CDs!

As with the previous games in the series, you'll press buttons to match moving triggers across multiple stage types, all of which test your reflexes, rhythm and understanding of each song's structure. As you'd expect, these inputs are simple to perform, but with multiple difficulty levels and some truly devilish beats, you'll find your skills tested in ways that make it very difficult to stop playing.

It also features a massive cast of 104 super-adorable stylized Final Fantasy characters, from iconic heroes like Cloud, Squall and Lightning to deeper dives that will make the most dedicated Final Fantasy fans 'ooh' in delight.

It's also the biggest collection of songs ever included in a Theatrhythm game, with a staggering 385 tracks included in the standard edition alone. Plus there is extensive add-on content coming that features music from beyond the Final Fantasy series.
Theatrhythm Final Bar Line – Deep Dive
Gameplay and Difficulty
Like most rhythm games, Final Bar Line uses a system where coloured circles will make their way across the screen with the expectation that players will time their inputs with each circle.
In Theatrhythm Final Bar Line, these are known as "Triggers". when a Trigger overlaps with a "Trigger Mark", players can input a command to match the rhythm of the song. Depending on which trigger is on-screen, players should act in the following way:
Touch Trigger (red circle): Press a button.

Slide Trigger (yellow circle with arrow): Move the analogue stick in the direction of the arrow. If there are two arrows, you'll have to use two sticks!

Hold Trigger (green circle and green line): Hold a button for the duration of the trigger and let go at the end.

Hold-Slide Trigger (green circle and line with arrow at the end): Hold a button for the duration of the trigger, and move the stick in the direction of the arrow at the end.
As Square's blog post points out, we're not all gifted when it comes to music (myself included), so it's nice to know that Theatrhythm Final Bar Line features three different difficulty levels: Basic, Expert, and Ultimate.
Stages
The title will feature a variety of different stages. Each of these will be either a Battle Music Stage, Field Music Stage, or Event Music Stage. Depending on which type of stage you encounter, you'll have different objectives and experiences:
BMS: Battle Music Stages – With BMS stages, you'll defeat waves of enemies in time with up-tempo battle music!

FMS: Field Music Stages – In these stages, you'll journey forth with your party with relaxing field music.

EMS: Event Music Stages – In these stages, you'll play to the beat against a backdrop of unforgettable scenes from each title!
Game Modes
Theatrhythm Final Bar Line will have a total of three different game modes, these being Series Quests, Endless World, and Multi Battle.
Series Quests – this mode will take the player through a total of 29 past titles as they unlock new characters and songs. Upon unlocking a new title, players will instantly be given the associated characters. As you make your way through the new title's songs, you'll unlock familiar enemies from the said title.
Endless World – This game mode allows players to replay songs. After a player completes a Series Quest, they will then unlock the same title in Endless World mode. This mode seems to be more challenging as quest difficulty increases gradually as you progress. If you fail three quests, it's game over and you're back to the start!
Multi Battle – This is Theatrhythm Final Bar Line's multiplayer mode, which allows you to compete online with other players. The mode allows you to randomly join another player or set up passworded rooms for just your friends.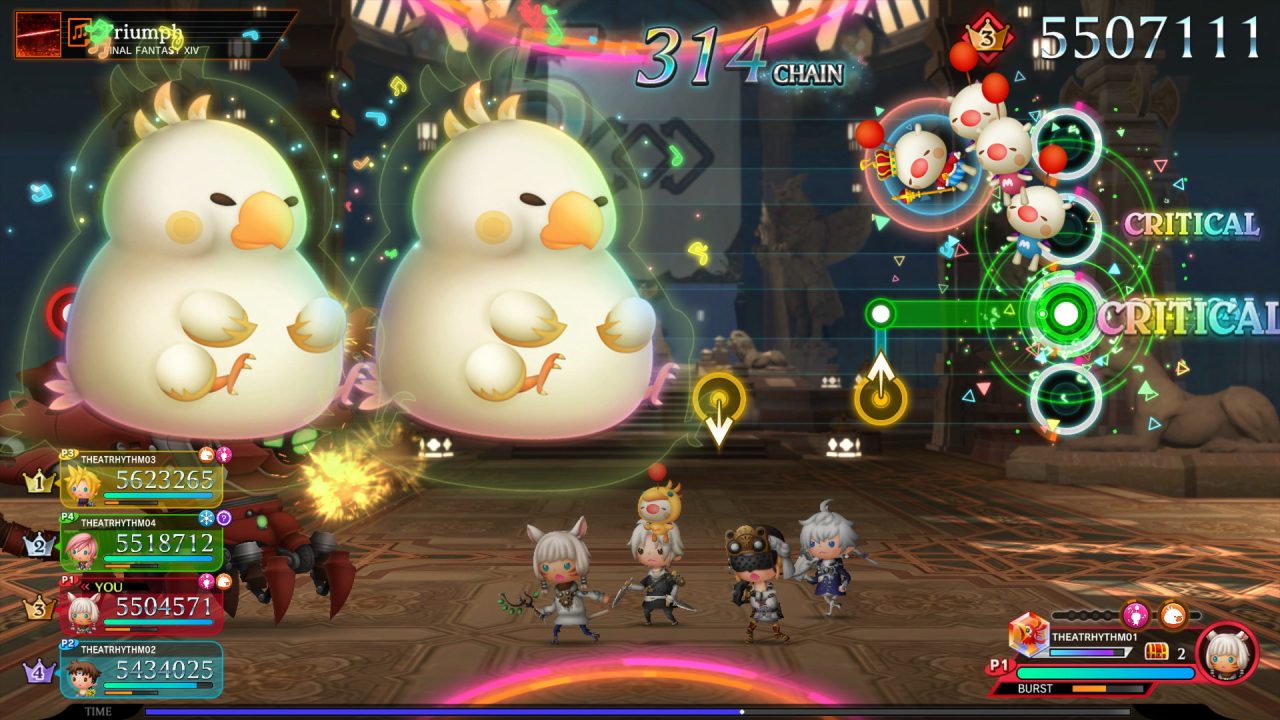 As you play, you'll be working to fill up a "Burst Gauge". Once full, you'll be able to pull off burst techniques that will disrupt others and give you an advantage. The longer the game goes, the crazier it gets! As you enter the second half of the battle, two burst techniques will be active at the same time.
It seems that Theatrhythm Final Bar Line will feature a variety of different techniques, but the ones outlined by Square Enix include:
Fat Chocobo Time – A Fat Chocobo will appear on the lanes, hiding them from view and getting in your way.

Moogle Dance – A Moogle will appear near the Trigger Marks and hide the Triggers from view.

Point Freeze – Points will be frozen for a period of time and your score will not increase unless you get a RAINBOW CRITICAL or CRITICAL.
Songs, Songs, and More Songs
Finally, the blog post reveals that Theatrhythm Final Bar Line will feature a whopping 385 songs. Square Enix promises that pretty much every aspect of the Final Fantasy series is represented in the title.
Some of the songs confirmed so far include:
• Opening Theme (Final Fantasy)
• SUTEKI DA NE (Isn't It Wonderful?) (Final Fantasy X)
• Battle On the Big Bridge (Final Fantasy V)
• J-E-N-O-V-A – Quickening (Final Fantasy VII Remake)
• We Have Come (Final Fantasy Type-0)
The Deluxe Edition of Theatrhythm Final Bar Line will include another 27 songs, including "Eyes On Me" (FFVIII), "Melodies Of Life" (FFIX), "Zanarkand" (FFX), "Kiss Me Good-Bye" (FFXII), and "Distant Worlds" (FFXI).
DLC will also be available and will include tracks from titles such as Chrono Trigger, Chrono Cross, LIVE A LIVE, Octopath Traveler, and more.
---
Theatrhythm Final Bar Line is set to release on Nintendo Switch and PlayStation 4 on February 16th, 2023! For future updates on the Final Fantasy series, you're already in the right place here at RPGFan.