Campaign Ends: July 13
Platform: Windows, PS4, PS5, XB1, XSX, and Switch.
First revealed at E3 2021's PC Gaming Show, SacriFire is a stunning new RPG inspired by '90s favorites such as Xenogears and Vagrant Story. Featuring exquisite 2D-HD graphics in the vein of Octopath Traveler, the game will send you on a morally complex tale combining fantasy and sci-fi elements with religious themes.
Our journey starts in the underground city of Antioch, ruled by a powerful military and religious order known as the Church of Sheol. You play as Ezekiel Ridan, a young soldier-in-training who hopes to protect both the city and the holy garden of Erebus from those infected by a demonic plague appropriately named "Heresy." What will you discover during your training? Earth-shattering secrets and centuries-old conflicts? Maybe. Or perhaps you'll just enjoy a nice afternoon participating in your regular patrols. I won't say!
Run, jump, and climb your way through Antioch and its several unique districts, along with the spirit world of Erebus…and perhaps more beyond! The two worlds are deeply intertwined, and by completing mini-dungeons in Erebus, you'll unlock new areas in Antioch. While you're in the spirit world, you'll even be able to help visitors and the recently departed with their problems, a feature that brings Valkyrie Profile to mind. Thankfully, you won't be exploring alone, as you'll enlist a fine assortment of companions during your travels. Bring your new allies along for exploration and combat, learn their backstories through sidequests, and then unwind with a casual chat at your home base.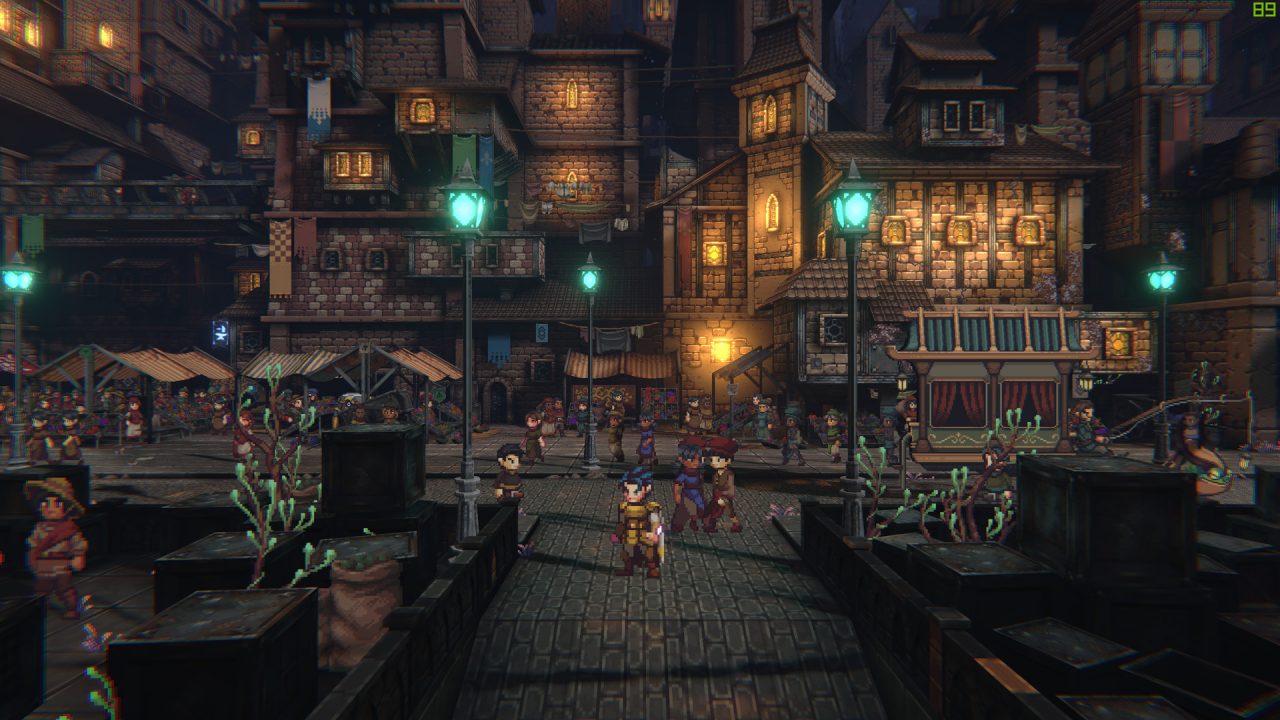 SacriFire's combat mixes real-time and turn-based formats. Action Points (AP) build up as time passes; once you've gathered enough, you can use them to dive towards a safer spot on the field, or add additional hits to combos. Aim your attacks toward enemy weaknesses and individual body parts for the best results! Ezekiel is equipped with a DIVOS, a sacred gauntlet that can transform into multiple weapon types made from spiritual energy; new DIVOS forms can be unlocked by progressing through the game and completing challenges. Finally, although it's suggested that party members can assist you during battle, the details of this remain unclear, and it appears that combat focuses largely on Ezekiel.
The game is a visual treat, filled with beautifully detailed 2D-HD backgrounds and anime-style characters clad in elegant fantasy armor and religious garb. On the audio side of things, classic JRPG fans will be delighted to hear that Star Ocean's Motoi Sakuraba will be lending his talents to the soundtrack, along with France's G4F Records.
SacriFire immediately caught my attention during E3 with its elaborate settings, diverse cast, and '90s flair. The fact that developer Pixelated Milk's previous title—2017's Regalia: Of Men and Monarchs—is so well-regarded is also encouraging. While already funded, remaining Kickstarter stretch goals include a new virtue (the game's version of character classes), the addition of CG illustrations for important cutscenes, and more. So fans of classic JRPGs, take note!
Disclaimer: While it's possible some of us at RPGFan may be backers of the games mentioned in these articles, this does not influence our coverage or our featured game choices. We make our selections simply based on the active campaigns we feel our readers might find interesting, and we are not given special access or perks by the developers.
tl;dr: We think these games show potential and want to share them with you.