Tyler Trosper
Monolith Soft has become synonymous with the Xeno games, whether it's the Xenoblade series or, to a lesser extent, Xenosaga. However, GameCube owners know of another RPG series by the famed company created in conjunction with tri-Crescendo: Baten Kaitos.
Seventeen years after my initial playthrough, my return to the first game in the series, Baten Kaitos: Eternal Wings and the Lost Ocean, is both pleasant and frustrating. The card combat system is still as robust and complex as ever. The story is classic Masato Kato, writer of Chrono Trigger and Chrono Cross, and bears more in common with those games than Xenosaga or Xenoblade. However, along with some huge difficulty spikes, obtuse plot progression, and important character moments stashed away in end-game side quests, the game is far from perfect.
Many of these issues are fixed in the game's prequel, Baten Kaitos Origins, and I would love Retro Encounter to cover that game someday! But as it is, Baten Kaitos: Eternal Wings and the Lost Ocean is a wonderful experiment of a game with a satisfying card battle system, the best soundtrack by Motoi Sakuraba (please listen to "Chaotic Dance"), and a plot with enough twists and turns to keep you going for the full 50+ hour adventure.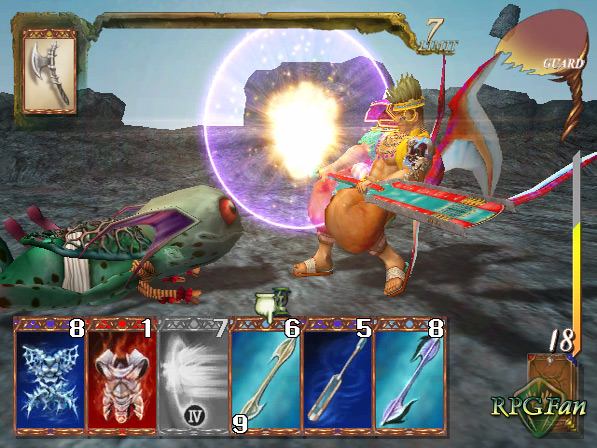 Pete Leavitt
I was curious about Baten Kaitos ever since I began collecting games a couple of years ago. But it shot up my list after learning more about it, particularly the graphics and battle system. Little did I know what else the game had in store for me.
The graphics are beautiful, but the world and overall style are wonderful, discordant, and often uncomfortably bizarre in the best way. The story is rife with irritations, but also chock-full of wonderfully intimate character moments. Every time the game fails to follow through with a great risk (like someone almost killing a character to save the world, but hesitating at the last moment because they can't bring themselves to do it), it makes up for it with some of the loveliest character moments you'll find, like a child training for religious service and learning how faith and action correlate to invite a miracle into her life.
The music is difficult to describe because inevitably, one turns to tired superlatives to futilely attempt to capture in words what an edifying feast for the ears it is. Fortunately, in today's age, I can encourage you to seek it out, and you can do so easily. So go do that.
Although there are some real difficulty spikes and definite story frustrations (the ending is another missed opportunity), the world, gameplay, and large swathes of the plot are delightful in that rare way. Baten Kaitos is a true hidden gem and a great delight to play. It deserves its mythological status among lesser-known JRPGs.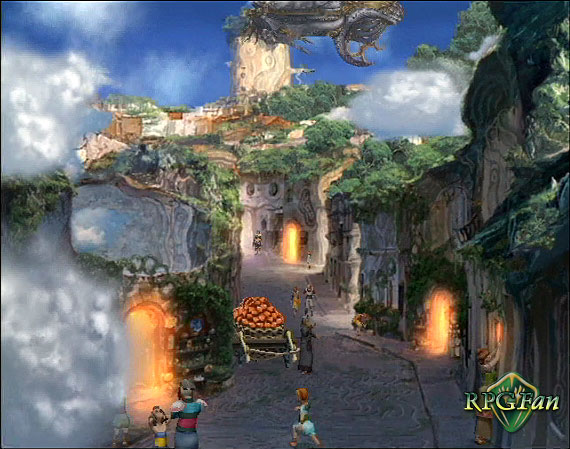 Alana Hagues
As a teenager, the GameCube was my primary console when I really started getting into RPGs. And because we didn't have a ton of money at the time, I satisfied my long summer breaks by replaying my favourite RPGs on that cute little purple box. Baten Kaitos: Eternal Wings and the Lost Ocean was one of those games. Amazingly, this is my fifth time beating it, and while my frustrations have only grown with time, so has my fondness.
Baten Kaitos has some of the more annoying tropes from the sixth console generation, from obtuse progression and sidequests, and a levelling system that can get you locked into dangerous situations if you're not careful. The plot is full of interesting ideas, but so many of them fall flat as the writing just lets people get away with things, or lets events happen by coincidence. But for every nitpick I have and every roadblock present (I'm looking at you three on the Goldoba), there are so many small things about this game that make me adore it.
The world is incredibly detailed, and the pre-rendered backdrops pop with colour and life on every screen. Water glistens, and snow sparkles, and it always makes my eyes light up. I'm fascinated with how the Magnus (cards) are used in and out of battle, both mechanically and as part of the lore. I'm addicted to the thrill of pulling together an outstanding deck of cards that guarantees me a straight 1-9 combo and damage numbers in the five-figure range. And Motoi Sakuraba's soundtrack is one of my all-time favourites, with gently plucked guitar pieces, beautiful violin and electric guitar battle tracks, and even an electronic dance track, because that makes sense in a fantasy/steampunk world, right? There's even an entire village made out of cakes and pastry, for goodness sake!
It's always been difficult to find people to talk to about Baten Kaitos, so it's been a wonderful experience getting to share it with old and new fans alike. And while Monolith Soft has gone on to make the Xenoblade series, I one day hope Yasuyuki Honne gets his wish and is able to return to this incredible world again. Or, at the very least, get this and the prequel on the Switch so that everyone has a chance to dip their toes into the Mighty Ocean and shuffle their own decks.