Akihiro Hino is not only the producer, director and main programmer of Level 5's second title Dark Chronicle (known as Dark Cloud 2 in the US), but also the company's president. Dark Cloud, Level 5's first title, sold 800,000 copies worldwide and its sequel Dark Chronicle managed to sell more than 250,000 copies in Japan since its November 28th, 2002 release. In North America the game was released on February 18th, 2003.
---

Q: We have had the honor to play Dark Chronicle. It has a lot of volume, right?
A: Thank you.
Q: In the game time flows from morning to evening. Moreover, past and future come and go. I think the idea of an RPG that transcends time is very interesting. It was like we saw the next dimension, with a game that evolved from 2D to 3D.
A: Please take some more time and play the game (laughs).
Q: Dark Cloud was released on December 14th 2000, roughly two years ago. And then Dark Chronicle was released. This time we wanted to ask you about both of these two big hit RPGs, but first, when did you begin the development on Dark Cloud?
A: The company was set up in October 1998 and we projected a development time of roughly two years.
Q: Upon founding the company, this was the first title, right?
A: Indeed. Especially in the case of Dark Cloud, it was a special project, because we made some things that eventually didn't appear in Dark Cloud. We needed this demo to research the capabilities of the PlayStation 2 and in the end it had a good impact on Dark Cloud.
Q: What can you tell us about that demo?
A: At the PlayStation 2 announcement on March 2nd 1999, (SCE President and CEO) Ken Kutaragi used it for his presentation. It was a demo showing a magic carpet flying through a valley as well as water effects.
Q: So you have been involved since the very beginnings of the PlayStation 2. Since then Level 5 has been an RPG powerhouse.
A: Well, for the time being.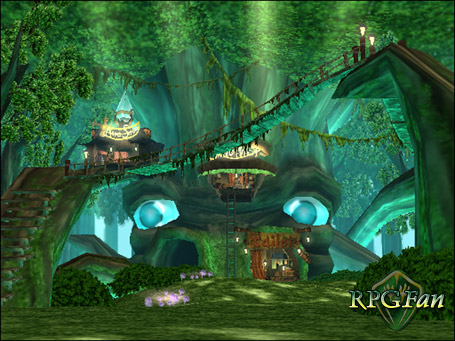 Q: Dark Cloud was labelled a Georama RPG; were you focusing on the "raising of an RPG" aspect, like building towns and raising people?
A: No, that was only partially the aim. At that time, Level 5 was small and had no power, we couldn't create a high profile RPG. However, even even if our development structure was small, we firmly had our thoughts set on creating a solid product. At last with Dark Chronicle we could create a high-profile RPG, I think.
Q: What were your aims with Dark Chronicle?
A: In a certain way, there is the point that we didn't create a complete version of Dark Cloud. After its completion, we said, let's do a new project. After we did Dark Cloud and thereby left something over to do, we said, let's add elements so that it becomes something entirely different, and make this a big project. This was our aim.
Q: Among other things you have included is a new look to the new images and major changes, but some part of the program was being re-used, right?
A: No, we didn't carry over anything. Basically, we changed the engine part as well, because mid-way through we had changed the entire program. Even though we originally had planned to re-use components, we ended up changing everything, including the tools.
Q: You have put your heart and soul into this game.
A: Well, we had the experience of creating Dark Cloud on the PlayStation 2, right? This was part of the experience. Even if we didn't re-use the code, Dark Chronicle is a step forward from Dark Cloud. The progress of the world's technology is fast, isn't it? To make full use of this progress and to surpass the techniques of the major companies, it is easier for us to create a game from scratch.
Translated by Chris Winkler and Eve C.
---
Creator's Talk 2003 Interview Series