We will start off this feature series with Square executive director and producer Akitoshi Kawazu. Joining Square 18 years ago, he has been responsible for Final Fantasy I and II's game design and served as director and producer of the 1999 RPG racing hybrid Racing Lagoon. Most importantly, however, is his involvement in Square's second most successful RPG series, SaGa. Since the 1989 GameBoy hit Makaitoshi SaGa, Kawazu has headed the development of every single SaGa title.
What follows are thoughts on the series' recent incarnation UNLIMITED SaGa, which has sold about 400,000 copies in Japan since its December 19th release and only this week was confirmed for a Stateside release.
---

Q: We already have had the honor to play UNLIMITED SaGa.
A: smiles
Q: I was surprised. The game being like that is quite a shock. There is such a game within computer RPGs, a concept of freedom not limited by form. Among the increasing number of reality-focused games, the SaGa series is really unique, isn't it?
A: giggles
Q: Regarding the movement on the field (map) in UNLIMITED SaGa, it's done in the style of in a board game where you proceed in the area one square by one. Battles are fought by spinning the reel and pressing a button to make it stop. This has become a sensational game with an extraordinary analogy which is making me think of a board or roulette.
A: Yes, you can make an RPG even without a map and the introduction of the reel also is a new thing, I believe.
Q: One gets that impression of a table RPG played with pen and dice rather than of a computer RPG.
A: If you increase the level of reality and complicate the game, it becomes a kind of reality simulation. However, originally games were putting a knife into the flank of reality. Usually somewhere there is a deformed thing or a symbolized thing has been implemented – Isn't that what you call a game? Where to cut from the reality, where to symbolize, is the game design part. However, as far as UNLIMITED SaGa is concerned, we said let's tackle the basics of game design once again. We didn't try to emphasize the realistic details, but rather symbolize, and cut out the parts we didn't need. We thought, let's dare to do a "not express" thing and we calmly sticked to that route.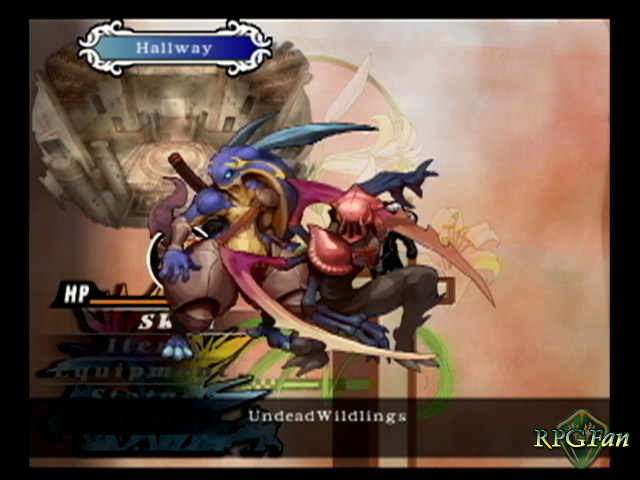 Q: The visuals as well as the illustrations have been particularly emphasized. Among all the 3D CG games, it's something entirely original.
A: Right from the beginning we decided to do the game in that style. As one would expect, in this age, battle scenes should be done in 3D to be appealing, so we thought let's do them in 3D, but as for the events, we didn't hesitate to give up 3D.
Q: This time the art director of Final Fantasy X, Yuusuke Naora was involved as illustrator?
A: Yes, just as he completed his work on Final Fantasy X, I asked him whether we couldn't work together. The basic image, including the way the pictures are shown, was his work. Also, his participation was a really big thing. Because through his illustrations, the visual presentation and ways and means of UNLIMITED SaGa have been decided on.
Q: This time you cooperated with Adobe, using a technique called "sketch motion" to animate the illustrations. Has their touch been decided by Mr. Naora as well?
A: He himself is very well-versed in Photoshop and did Final Fantasy X with it as well. The partnertship with Adobe was born partly due to this fact.
Q: In the game you use the power of the five elements, the visuals are themed after flowers, there are lush colors and a feeling of a foreign country right?
A: When talking about a fantasy RPG, one instantly associates it to a world themed after medieval Europe, but Final Fantasy and most standard RPGs do not actually use worlds themed after Medieval Europe. For instance, because a game with no rules can't be created, to construct a truly new world setting is difficult. For instance, we thought it might be interesting that you can adopt yourself easily to a system that includes the 5 elements.
Q: There is no statelessness, but rather an image of many states and an intercultural one. Indeed, the way of the presentation and the game's structure, the challenge to do new things is the major characteristic of the SaGa series. If Final Fantasy is the "rule of right", SaGa carries the image of a pioneer.
A: Indeed. It was Final Fantasy, that by selling a lot of copies, prepared our company-intern infrastructure (laughs). In case of SaGa, there is no such thing, I guess. We have to unfold new worlds.
Translated by Chris Winkler and Eve C.
---
Creator's Talk 2003 Interview Series