Some RPG fans may have been introduced to the idea of hip-hop/JRPG fusion with Mega Ran and Lost Perception's Rap recounting of Final Fantasy VII, Black Materia, or more recently with its reimagining to celebrate the release of FFVII Remake. Well, this legacy is continuing as Mega Ran's record label, Random Beats, is releasing a hip-hop album encompassing classic RPGs Chrono Cross and Chrono Trigger, called Radical Dreamers, to celebrate the series' 24th anniversary. This noble endeavor is a collaboration between Amerigo Gazaway, who provides the album's vocals, and DJ DN³. The concept is to include references and lyrical retellings of the games while celebrating gaming culture and speaking to larger themes of self-discovery and radical pursuit.
"I was late to Chrono Trigger as I just played through it in the last few years," reflects Mega Ran, "But the game is still as fresh and outstanding as it ever could have been. I trust Amerigo and DN³ as they are not only two of my best friends, but some of the most passionate music and game fans I know. They were able to give the game and story all the love and care it deserves while simultaneously putting their own creative flair to such a great concept, and the result is a banger. That's what Random Beats is all about."
The album is out today on Bandcamp, and we've got all the album details below, as well as an exclusive music video courtesy of Scarlet Moon Records. Picking one song to present here may have been as consuming as planning your party in Chrono Cross, so we strongly encourage you to check out the whole album to avoid that intense FOMO. In this moment, though, please take a leap to the SNES past with us for Time Travelin' (Amerigo Remix) and enjoy those smooth Mitsuda samples.
Here's a full tracklist, to provide an idea of what the rest of the album covers from the games:
Shore of Dreams (Intro)
The Remedy
Right Here
Radical Dreamers (feat. Mega Ran)
Starts With Us
Lost in Time (Interlude)
Another World
Bubblin' (feat. SkyBlew)
Wings of Time
Keep Bouncing
End of Time (Outro)
Time Travelin' (Amerigo Remix)
Bonus Tracks (on New Game+ physical editions)
Another World (DJ DN³ Remix)
The Remedy (Lost Perception Remix)
Radical Dreamers (feat. Mega Ran) (K-Murdock Remix)
Wings of Time (Amerigo Remix)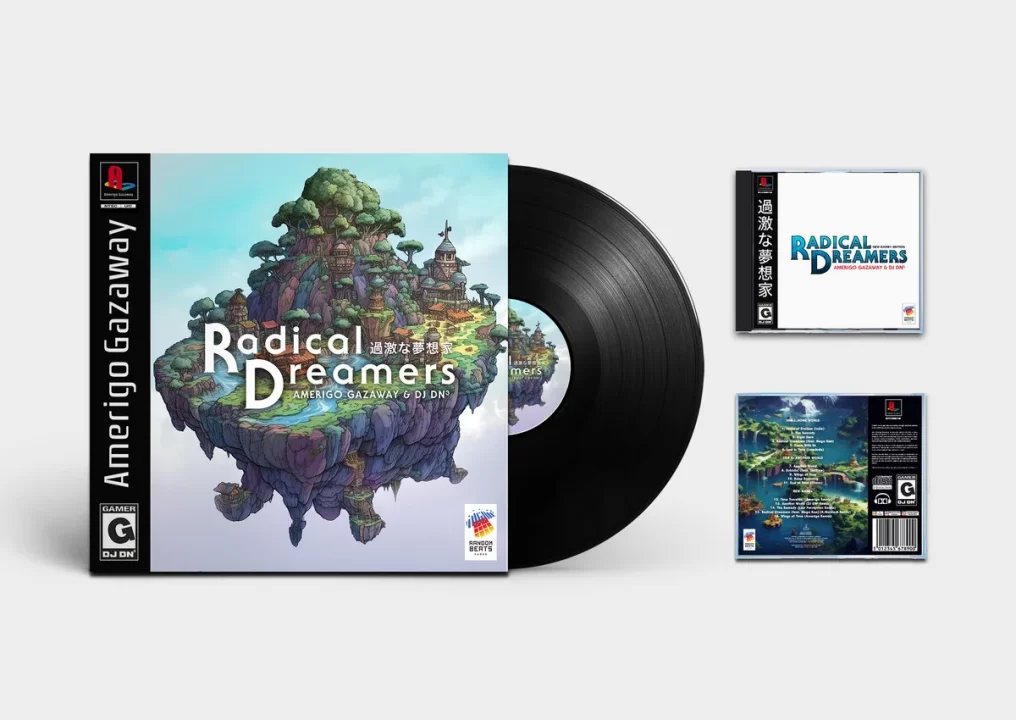 Radical Dreamers also has several options in terms of a physical release, ranging from a 12" vinyl and digital bundle all the way to a signed test pressing and deluxe merch bundle. Preorders for the physical release are active now, with access to the digital album immediately and an estimated shipping time of April 2024 for physical items. Purchasing options are available on Amerigo Gazaway's website.
Thanks again to Scarlet Moon Records and everyone involved with the album. Happy listening, all!