2020 was a disastrous year in many respects, but at least we got some great new video games and ample government-mandated time and opportunity to play them. I ended up knocking out several 2020 releases, at least enough for a ranked top 5. (You probably see where this is going.)
Retro Encounter of the Year – NieR: Automata
Before we get to new games, let's live in the past for a minute. I played 11 games released before 2020 for the Retro Encounter podcast this year, and the standout of them all was NieR: Automata. The action is rock solid and the boss fights are epic, but the thought-provoking story and subversive gameplay elements are the real stars, from the opening flight mission to how to save your game after you beat the final boss. NieR: Automata is one of the most unforgettable games of the past 10 years, and I must apologize for taking so long to get around to it.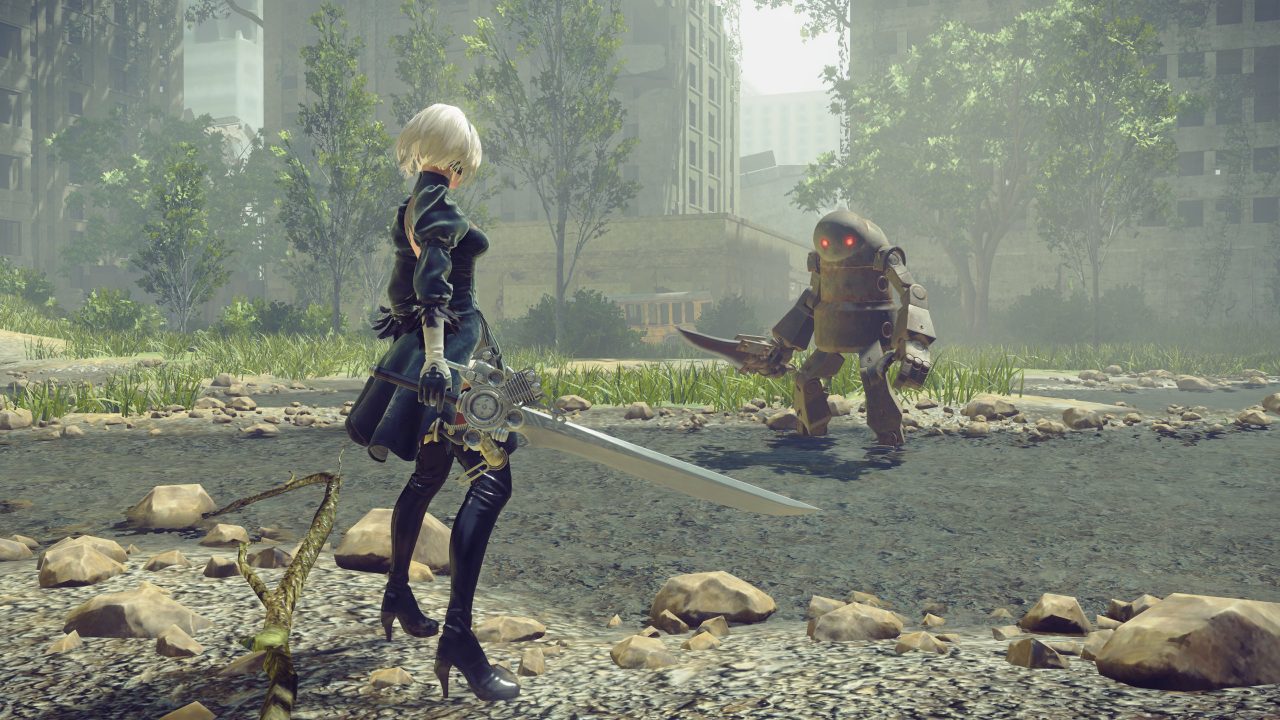 5. Most Faithful Remake of the Year – Trials of Mana
The 2020 version of Trials of Mana looks, sounds, and plays much differently than the 1995 version, which is to be expected. Video games have different base production expectations five console generations apart. But remarkably, Trials of Mana tells the exact same story in both versions, and dungeons and field areas are reimagined in the Unreal Engine in a way that feels like the originals, just designed more sensibly. And the massive amount of new voiced dialog is (mostly) enriching and not grating. 2020's Trials of Mana is a total 3D remake of a 2D game, yet it feels both the same and different in the best way possible. It's about as good a remake as I could have hoped for.
4. Most Daring Remake of the Year – Final Fantasy VII Remake
And here's the opposite end of the 2020 RPG remake spectrum. Of all the games to receive upgraded, remade, or remastered versions in 2020 (and there were several), Final Fantasy VII Remake makes the boldest changes and biggest statements. The game moves from turn-based 1990s ATB combat to an action battle system with dramatic interruptions for special moves, features fully realized character models that are among the most beautiful of the generation, and includes story changes that recontextualize the entire plot of Final Fantasy VII and have fans abuzz about the possibilities of the next game. I'll avoid spoilers, but let's just say that Final Fantasy VII Remake is a memorable, hugely entertaining experience that haunts me like a time-ghost.
3. Visual Novel of the Year – 13 Sentinels: Aegis Rim
Nailing down a genre for George Kamitani's magnum opus is a challenge, as 13 Sentinels: Aegis Rim presents like a visual novel, navigates like a classic adventure game, and has over 30 segments of real-time strategy mecha battles. And every piece of the puzzle is compelling! The story has breathtaking moments of drama in all 13 of the intertwining plot flowcharts; the combat sequences are stimulating action breaks (invest in sentry guns and interceptors — trust me on this one); and like all Vanillaware titles, 13 Sentinels is visually stunning to behold. It's definitely my favorite visual novel of the year and an easy recommendation, especially to fans of extravagant giant robot summoning scenes.
2. Japanese RPG of the Year – Yakuza: Like A Dragon
Yakuza: Like A Dragon (Ryu Ga Gotoku 7 in Japan) feels like a game designed in a laboratory to appeal directly to me: a character-driven crime drama with clashes of ideals resolved with fists; an exceptionally detailed open world loaded with sidequests, minigames, and restaurants with authentic menus (!?); a job system and turn-based combat inspired by Dragon Quest; and a loveable cast of main characters, including multiple guys older than 35. Holy Yokohama! I loved Yakuza: Like a Dragon more with every new chapter, and I'll go for 100% completion once I'm ready to grind up to level 99, find 10 missing cats, and conquer the Dragon Kart Grand Prix.
1. Hybrid RPG of the Year, Roguelike of the Year, Game of the Year – Hades
Hades is the game that ended my dislike of the roguelike, and it did so by seducing me with excellent writing and gameplay that feed into each other in an unsurpassed video game design equilibrium. Zagreus, the handsome son of the titular God of the Underworld, is sick of never seeing the sun or ocean and decides to leave the land of the dead, much to the chagrin of his father and to the pleasant surprise of his uncles and cousins on Olympus.
Hades (the game, not the god) rewards you with more story lore and stat bonuses with every run, whether it ends in triumph or defeat; it tricked my silly gamer brain into thinking it wasn't a roguelike at all, but rather a superb action RPG masquerading as one. Building relationships with around 25 characters from the Greek pantheon, mastering six weapons with hundreds of upgrade possibilities, and listening to Darren Korb and Ashley Barrett duet as Orpheus and Eurydice were among the highlights of my favorite game of the year. But I implore you: don't forget to pet the very good boy Cerberus between escape attempts. Even though only one head (rogue)likes scritches.