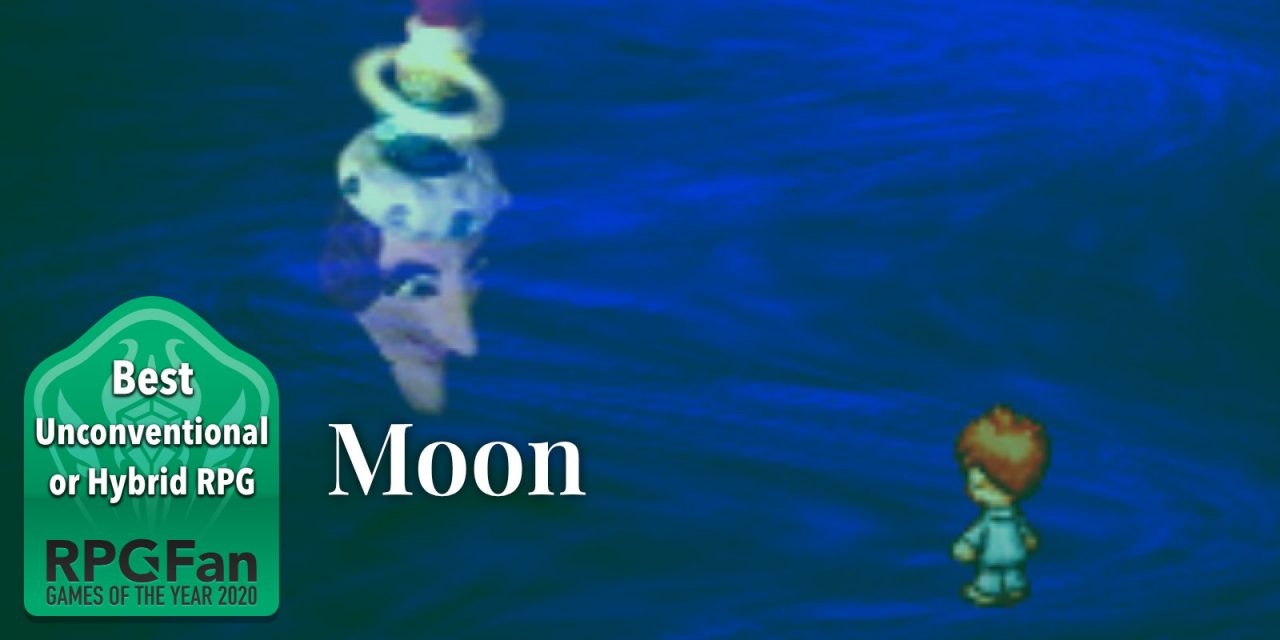 Winner: Moon
Love-de-Lic's "lost" 1997 PSone classic Moon: Remix RPG Adventure is less of an RPG and more of an adventure-styled puzzle, a series of increasingly poetic Zelda sidequests without combat or weapons. Still, it's obsessed with the JRPG myth, the Dragon Quest story of "the hero," the familiar knight wielding his father's legendary sword, the one who murders all the cute slimes for gold and EXP. The player character is tasked with undoing this harmful lineage by helping friends and animals, and by setting free the spirits of the slain. This anti-violence, anti-colonialist metaphor rings true two decades later, delivered to new audiences by Onion Games and Tim Rogers' faithful (awesome) localization.
Its subversive legacy can be felt most notably in the impossibly good Undertale, but Moon's humor and critical lens can be felt throughout much of the indie, micro, and art game communities, influencing makers and players (most of whom may have never even played it).
by Nilson Carroll
---
Runner-Up: Sakuna: Of Rice and Ruin
If you've slept on Sakuna, it's time to wake up and smell the rice bales. This unexpected treat from Edelweiss combines side-scrolling combat reminiscent of a Vanillaware game with a detailed rice farming and town development sim mode that's every bit as satisfying as Harvest Moon/Story of Seasons or Stardew Valley. The way you cultivate rice in the game is incredibly true to life, as the development team did extensive research into the process and methods, which shows through in their final product. It's intensely charming. Every character is brimming with personality, with lively dialogue and heartwarming story developments. It's colourful, engaging, and lively all around, from its music to its combat. Sakuna is an unusual but endearing game and well worth every moment I spent with it.
by Mark Tjan
---
Readers' Choice: Best Unconventional or Hybrid RPG
Winner: Sakuna: Of Rice and Ruin
Runner-Up: Moon
Game Awards for Best…
Element Awards for Best…
And Finally…